Season 2004/05
Temple Fortune's First Team
M(S)FL Fourth Division


The 2003/04 season had a deja vu feeling about it. The First Team (in Division 2) and the Second Team (in Division 4) had both struggled throughout difficult campaigns and finished in relegation places. Somehow the First Team completed their season with a depleted squad, at times just about managing to raise eleven players.

It was evident that the Club simply did not have enough players to run two teams for the following season. With the usual commitments needing to be made regarding competitions to be entered and pitches to be hired etc, a decision was required sooner rather than later regarding how many teams would be run. So it was decided to fold the Second Team, reminiscent of the situation 13 years previously in 1991. Very much deja vu!

The signs were there that the remaining team would be filled predominantly with former Second Team players so another decision was taken to enter Temple Fortune's lone M(S)FL side in Division 4 rather than the section above. David Summer, a former Second Xi player who was ruled out from playing due to injury, agreed to manage the remaining team, whilst all-time Seconds leading scorer Robert Botkai became his assistant. Yet pleasingly, come the start of the season, an unexpectedly high number of First Team players from the previous season decided to rejoin, immediately strengthening the squad and raising hopes for the forthcoming campaign from mere mid-table stability to promotion contenders.

The new-look side, a blend of First and Second Team players, was further strengthened by the arrival of useful South African striker Kevin Goldberg and also Gavriel Noe, a quick 19 year youngster who looked very good in two handsome pre-season victories against the Old Boys. Temple Fortune started the Division 4 fixtures encouragingly enough, drawing 3-3 against highly-fancied Chigwell Athletic 'B' at Childs Hill Park. By the time the first month was completed, the team remained unbeaten and rested in third place. The first league defeat came in the seventh match, a narrow 0-1 reversal against a tough Rapid Banta side. The Firsts even enjoyed a cup run of sorts by eliminating two Oak Wood teams from Division 3, the Seconds on penalties and the Thirds by 4-1 in the Anekstein Cup.

By the end of November, Fortune stood comfortably hovering between third and fourth place hampered by a couple of draws too many from games expected to be won. But a second league defeat, by 3-2 against bottom-placed Montana Rangers 'B' in December, proved to be a massive blow and was later to be regretted at the end of the season. Another loss against the improving Real MAL put Fortune behind the front-runners at the turn of the year, but a good run moved the side back into contention. League doubles were completed against JRC Diamonds (5-2 and 3-2), Sutlu Borek (4-2 and 6-2) and The Veras 'B' (2-0 and 2-1), whilst there were hard-earned victories over Life (2-1) and UJIA (3-1) after previously sharing points with both opponents. An acceptable 2-2 draw with second-placed Rapid Banta gave them the edge and the climax was set up with a must-win fixture against newly-elected Div.4 champions Chigwell 'B'.

Before that, however, Temple Fortune took part in the Minor Cup competition which had been arranged due to the fixtures running so smoothly thanks to favourable weather. After disputing the controversial draw, unfairly hand-picked by the Fixtures Secretary, Fortune had to overcome Division 2 promotion challengers FC Heath and PMG Walford in a very tough Group A, together with Rapid Banta whom Fortune had failed to beat in two previous league fixtures. Amazingly, the Yellows beat PMG and Banta and drew with FC Heath to top the group. In the quarter-final, Life were swept aside gloriously by 8-1, Marc Herman hitting a splendid hat-trick. Fifth Division side Essex Wanderers gave Fortune a very difficult match in the semi-final at Childs Hill Park, and the home side were rather fortunate to take the tie by 2-1, thanks to two late goals by Dean Ingram and Simon Allen.

A week before the semi-final, Temple Fortune met Chigwell Athletic 'B' at the Peter May Sports Centre requiring a win to leaf-frog above Rapid Banta and grab the Division 4 runners-up spot. Unfortunately, the champions proved to be just too good and won a closely contested game by 3-2. So Fortune had to be content with third place, missing out on a set of medals by one solitary point. How that shock Montana defeat in early December came back to haunt the players!

Notable goalscoring performances in key games included Kevin Goldberg's two in a very close match against The Veras, Gav Noe's late pair against Life to over-turn a 1-0 deficit into a victory, and young Gav's excellent hat-trick against Rapid Banta in the Minor Cup. The team were hit by injuries including Kevin Goldberg, who did return late in the season, and then Yali Mamouri towards the end which proved to be more serious. Although the team blended very well and the morale was excellent throughout, Mike Kaye in particular played consistently well right through the season and won the Player of the Year Cup, pipping young Gavriel Noe who came second. Kevin Goldberg took the Leading Goalscorers' prize in his first campaign (with 16 goals) whilst David Summer was the Clubman of the Year.

One notable achievement, which had never been accomplished in any previous Temple Fortune season, was the fact that the Firsts remained unbeaten in all home matches at Childs Hill Park, which amounted to 13 (9 league, 4 cup). The Club had completed 49 full league seasons in total (Firsts 29, Seconds 18, Old Boys 2) and not losing a home match all season was a marvellous first, a feat to be proud of by every player involved.

And so onto the JC-MSFL Barry Goldstein Minor Invitation Cup Final, held at the Wingate & Finchley FC stadium in Finchley on 17th April 2005. Temple Fortune's first Cup Final appearance for 23 years, the Peter Morrison Trophy (Southern Area) Final being the last one in 1982. Fortune started the Minor Cup with a Group A fixture against FC Heath and finished with the Final against the same opposition. Sadly Fortune did not play that well and despite holding FC Heath to nil-nil for an hour, the Second Division side vindicated their tag as favourites by winning 3-0. Just to add to the team's disappointment, Dean Ingram sustained a hairline fracture of a leg whilst Marc Herman broke his nose.

But, overall, what a good season for Temple Fortune's M(S)FL side! The 2004/05 season started as unknown territory for a mixed side which had merged players from the previous season's Firsts and Seconds together... and the boys did well! Perhaps not surprisingly given the lowly M(S)FL divisional status but nevertheless an enjoyable and relatively successful season.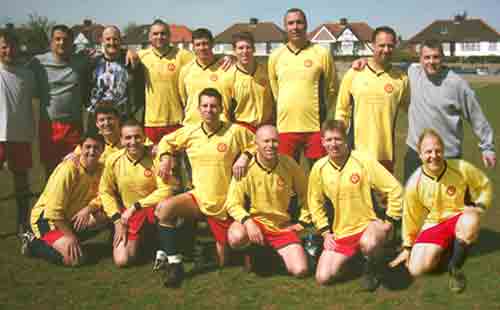 TEMPLE FORTUNE, SEASON 2004/05
From left to riight, back row: Graham Meyer, Phil Small, Serge Weinberger, Simon Allen, Dean Ingram, Jonathan Dubiner, Marc Herman, Andy Montlake, David Summer. Front row: Gav Noe, Kevin Goldberg, Gedis Kortach, Martin Seifert, Garry Simpson, Robert Botkai, Mike Kaye.