SEASON 2004/05
Temple Fortune's first Cup Final
for 23 years
Season 2004-05 saw Temple Fortune enjoy the Club's best season in cup football since reaching the PMT Final in 1982.
The Club were invited to enter into the M(S)FL Barry Goldstein Minor Invitation Cup which was held from time to time when the fixture list permitted. Since the weather had been kind during the 2004-05 season, the competition went ahead again having been won by North London Raiders the season before. However, the 2005 Minor Cup started in controversy when Temple Fortune's Chairman Nigel Kyte strongly objected to the competition's contrived format. The groups had been hand-picked by the Fixture Secretary, which Kyte claimed was unfair and unethical. At a mid-season League Council Meeting, a proposal by Catford & Bromley FC to redraw the group stage was almost brought about the resignation of the Fixtures Secretary. After much controversy and heated discussion, the M(S)FL Chairman ruled that the Minor Cup format would stay the same due to time restraints but be reviewed in time for the next season. This made sense since the groups were due to start only days after the meeting! With the competition given the go ahead, Temple Fortune decided to stay in despite the objection and had to compete in a very tough Group A alongside Second Division promotion hopefuls FC Heath and PMG Walford, plus Division 4 runners-up-elect Rapid Banta. Here is the story of Temple Fortune's fine achievement in reaching the Minor Cup Final of 2005.
First Round, Group A: Temple Fortune v FC HEATH (Home)
Team: P.Small, M.Kaye, G.Kortach, M.Herman, J.Dubiner, G.Meyer, D.Ingram, G.Simpson, Y.Mamouri, K.Goldberg, R.Botkai.
An injury-struck Temple Fortune team put up a brave fighting performance to draw 2-2 against Division 2 promotion challenging FC HEATH in the opening fixture at Childs Hill Park. Just about able to raise an eleven, Fortune were further handicapped by injuries during the game but did really well to share the spoils by the end. KEVIN GOLDBERG put the Yellows ahead with a great chip from outside the penalty area. But with Fortune down in numbers after injuries to Mike Kaye and Kevin Goldberg, the visitors scored twice to lead 2-1, the second from a penalty just five minutes from time. However, ROBERT BOTKAI deservedly equalised with a minute to go when his cross took a deflection over the FC Heath goalkeeper.
First Round, Group A: Temple Fortune v PMG WALFORD (Home)
Team: S.Weinberger, M.Kaye, M.Seifert, G.Meyer, S.Allen, G.Noe, D.Ingram, G.Simpson, Y.Mamouri, P.Small, R.Botkai.
In the second game, Fortune defeated PMG WALFORD, who were lying fourth in Division 2, by one goal to nil at Childs Hill Park. After dominating most of the game and with numerous good chances being wasted, Fortune grabbed the all-important winner with ten minutes remaining when Phil Small, playing upfront in place of injured Kevin Goldberg, laid on a chance for YALI MAMOURI who finished well. The home side had several more opportunities to make the result safe but they went begging.
First Round, Group A: Temple Fortune v RAPID BANTA (Away)

Team: S.Weinberger, M.Kaye, G.Kortach, M.Seifert, S.Allen, D.Ingram, G.Simpson, J.Dubiner, Y.Mamouri, G.Noe, P.Small. Sub: R.Botkai.
Temple Fortune played very well to defeat RAPID BANTA 3-1 at West Hendon. This excellent victory placed Temple Fortune top of Group A - arguably the toughest group in the competition - and sent The Fortunates through to the quarter-finals as Group winners. The only thing which marred the result was the sending off of Philip Small for using abusive language towards an opponent. Small, victim of a bad tackle after 35 minutes or so, vented his feelings to the offender and was shocked to see referee Benson issue a red card. However, GAVRIEL NOES's excellent hat-trick, his first for the Club, enabled the away side to come through splendidly, thanks to a gutsy, determined performance by the remaining ten players.
Quarter-Final: Temple Fortune v LIFE FC (Home)

Team: S.Weinberger, M.Kaye, G.Kortach, J.Dubiner, G.Noe, D.Ingram, G.Simpson, M.Seifert, R.Botkai, M.Herman. Subs: K.Goldberg, G.Meyer.
In the quarter-final tie at Childs Hill Park, Fortune hammered fellow Division 4 side LIFE FC by 8-1. After a unsettled start, Fortune took the lead through ROBERT BOTKAI. Then GARRY SIMPSON scored twice from well worked corners before Life pulled one back to trail 3-1 at half time. After the break, a slick passing move ended with Martin Seifert crossing for MARC HERMAN to head home the fourth. With Fortune dominating, MARTIN SEIFERT then added two for himself, whilst MARC HERMAN went on to complete his hat-trick. Surprisingly a comfortably handsome victory over opposition which had given Fortune two close games in the M(S)FL Fourth Division that season, one a draw and the other Fortune winning 2-1 thanks to a late decider.
Semi-Final: Temple Fortune v ESSEX WANDERERS (Home)

Team: S.Weinberger, M.Kaye, G.Kortach, S.Allen, J.Dubiner, G.Noe, G.Meyer, D.Ingram, M.Seifert, R.Botkai, M.Herman. Subs: K.Goldberg, A.Montlake, P.Small
Completely out of sorts, Temple Fortune overcame a one-nil deficit to beat Fifth Division ESSEX WANDERERS at Childs Hill Park. The visitors were all set for a shock victory after leading by a goal at the interval, missing good chances in the second period. Serge Weinberger's superb goalkeeping kept Fortune in the game. Temple Fortune never really got going and made few chances. But to their credit the home side dug in deep and after 79 minutes, the break-through finally arrived. DEAN INGRAM fired home from just inside the penalty area. Three minutes later, Marc Herman superbly chested the ball into the path of skipper SIMON ALLEN who steered the ball to the 'keeper's right. It trickled tantalisingly over the line and Allen raced away in celebration to be mobbed by his team-mates. From 0-1 down with 11 minutes remaining - and never looking like scoring - to 2-1 up in a matter of minutes... incredible scenes of Yellows jubilation at full time!
FINAL: Temple Fortune v FC HEATH (Wingate & Finchley FC)

Team: S.Weinberger, M.Kaye, G.Kortach, S.Allen, J.Dubiner, G.Noe, G.Simpson, D.Ingram, M.Seifert, R.Botkai, M.Herman. Subs: K.Goldberg, G.Meyer, A.Montlake, P.Small
Temple Fortune's big day ended in disappointment as Second Division side FC HEATH won the Minor Cup at Wingate & Finchley Stadium. Watched by a surprisingly good attendance of around 180 people, which was clearly helped by the glorious sunshine, our players ran their socks off against a younger quicker side but created very little in the way of chances. Our team really never got into any sort of fluency and the first half was a dour affair of misplaced passes and long clearances. Serge Weinberger pulled off one fantastic save, diving down to his right to keep out a goalbound effort. Fortune did well to hold FC Heath goalless at the interval, by which time David Summer had to reorganise his team following Dean Ingram's injury. FC Heath had the better opportunities but some fine defending kept them out. Fortune's best opportunity in the first period came when Gav Noe finally found some room on the right wing, breaking away freely. With two yellow-shirted players waiting unmarked in the penalty area, Gav's cross was intercepted by the one defender back to cover... and the chance was gone. Ged Kortach was harshly cautioned for a minor trip before the break but the referee evened up the bookings by yellow-carding an opponent soon afterwards. Midway through the second half, FC Heath finally made the breakthrough when one of their players headed home a cross. Fortune had a good chance to equalise from a free-kick on the edge of the penalty area but Kevin Goldberg's shot from Garry Simpson's sideways pass was blocked. The decisive second about ten minutes later when an opposing forward scored from close range whilst Serge Weinberger was looking for an offside flag which never came. With Temple Fortune pushing up in search of a goal, FC Heath started breaking away but the Yellows held firm until the final minute. A shot from a pull-back pass struck the underside of the crossbar and appeared to bounce out but the Russian linesman on the far side signalled the goal! Serge Weinberger then tried to blast the ball into orbit and was duly cautioned. The whistle sounded soon afterwards and Temple Fortune trooped off disappointed but gallant losers. So it just wasn't meant to be but everyone could be proud of the team's achievement - winning Group A (referred to as 'the Group of Death' by some Maccabi officials!) was a notable accomplishment in itself; going on to reach the Final was excellent and capped a fine season despite the dissappointing result.
MATCH PROGRAMME – the Club produced a special commemorable programme in PDF format which was emailed to all Club Members a few days before the Final.

TFFC'S RUN TO THE M(S)FL BARRY GOLDSTEIN
MINOR INVITATION CUP FINAL, 2004-05


| | | |
| --- | --- | --- |
| MIC 2004-05 | OPPONENTS | RESULTS & GOALSCORERS |
| GROUP A | FC HEATH | Drew 2 – 2 (K.Goldberg, Botkai) |
| GROUP A | PMG WALFORD | Won 1 – 0 (Mamouri) |
| GROUP A | RAPID BANTA | Won 3 – 1 (Noe 3) |
| QUARTER-FINAL | LIFE FC | Won 8 – 1 (Herman 3, Seifert 2, G.Simpson 2, Botkai) |
| SEMI-FINAL | ESSEX WANDERERS | Won 2 – 1 (Ingram, Allen) |
| FINAL | FC HEATH | Lost 0 – 3 |
ACTION FROM THE FINAL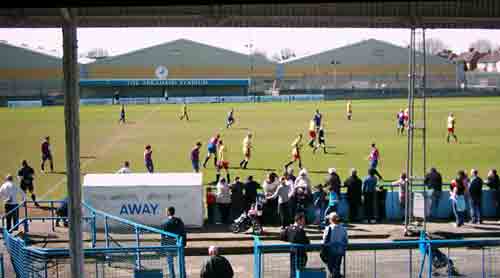 A general shot from the stands at Wingate & Finchley FC's Abrahams Stadium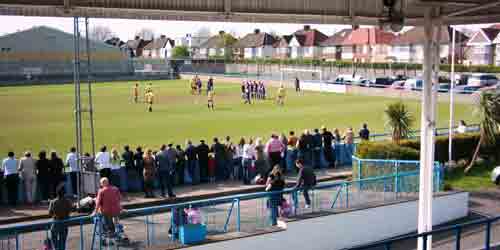 Temple Fortune about to squander a good chance to equalise from a second half free-kick
Far left: Mike Kaye enjoys the moment as the Temple Fortune team line up to greet various officials before the kick-off.

Left: Guest of Honour Stan Schaverein and other officials meet the Temple Fortune players.

Far left: A stoppage in play as Robert Botkai receives some treatment following a knock in the first half.

Left: Another action shot from the Final. (With acknowledgements to Totally.com)
Top left: Serge Weinberger is beaten by a high leaping FC Heath forward who heads his team into the lead after Fortune had bravely kept out the Division Two side for a hour.

Above: Gavriel Noe, Temple Fortune's youngest player in the Cup Final line-up, about to receive his award from Stan Schaverein (left), MSFL Vice-President and former MSFL Referees' Secretary. In the middle of the picture, shaking the hand of another Temple Fortune player (hidden behind Gav), is MSFL Chairman David Wolff.

Left: Phil Small, who came on as a substitute, is about to descend the main stand stairway having received his trophy, followed by Marc Herman behind him. The disappointment etched on their faces tells the story!