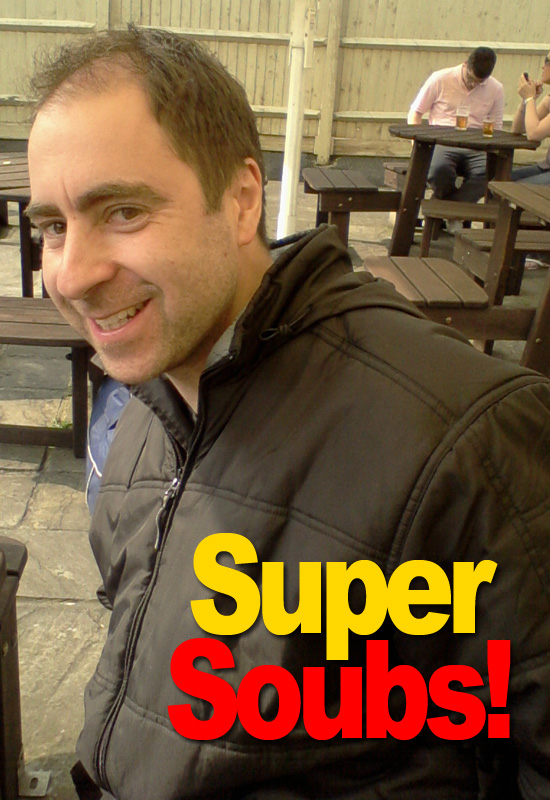 ANDY SOUBER LED THE FIRST TEAM TO THE MSFL SECOND DIVISION CHAMPIONSHIP FOR THE FIRST TIME FOR A QUARTER OF A CENTURY! JUST A FEW DAYS AFTER TEMPLE FORTUNE WON THE TITLE AT THE HIVE ON SUNDAY 27TH MARCH 2011, WE CAUGHT UP WITH THE ELATED FIRST TEAM MANAGER AND FIRED A FEW QUESTIONS AT HIM!




Many congratulations, Andy! You've finally achieved what you set out to do and you've had a day or two to contemplate things. What are your feelings right now?
I am chuffed to bits. I am so pleased for the players who have thoroughly deserved this success and especially for Lee.

I know you were disappointed to finish sixth in season 2009/10 when you were expecting a push for promotion. Why do you think things have turned around this season?
The main reason is the four new signings (Gance, Gilbery, Goldberg, Shindler) have bedded in so well and helped along what was an already talented squad.

Were you confident right through the season that this team would take the title having seen the team fade so badly in 2009/10?
At the beginning of the season I sat down with Lee and we said that second place was the minimum required. Anything else would be a marvellous bonus.

Let's take you back a bit because you first joined the Club in 1990/91 and played in the 1992/93 team which came third in Division Three. Temple Fortune had a decent team which promised much but just fell short at the end. What do you remember about that season?
We should have won the division that season. We had a prolific partneship upfront (Steve Hunt and Steve Feiger). In all honesty though, the current side in my opinion are streets ahead.

Yes, this 2010/11 First Team are much better. On the website is an article covering the 1992/93 season there is a sentence which reads: "Andy Souber, a naturally gifted player when he put his mind to it, was playing well, helped by the emerging Richard Cannon in midfield." How did you see yourself as a player at Temple Fortune?
I think because I was young at the time my attitude was wrong. I thought I was better then anyone else and didn't need to work hard!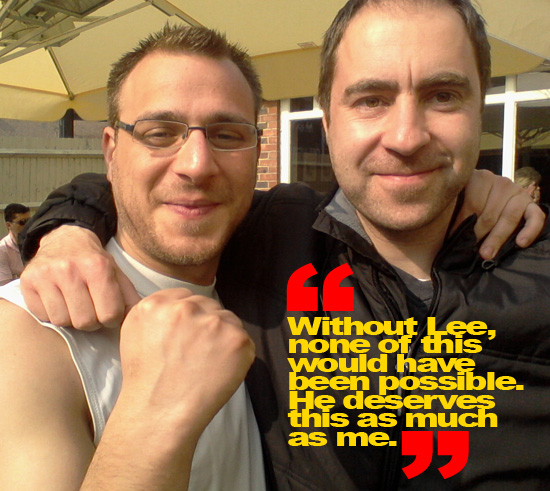 After leaving the Club, you enjoyed success at the highest level in the MSFL with Brady Maccabi. What are your memories of your time there?
We had a good side but there were a couple of players who ruined the atmosphere for everyone. There was nothing like the comraderie we have in this Temple Fortune side.

What made you return to Temple Fortune, a relatively unsuccessful club in terms of silverware who were playing much further down the League?
I'd had a couple of seasons interupted by injury and I just wanted to play. My job also meant I was only available two out of three Sundays. Thankfully, Garry Simpson intergrated me into the side and I really enjoyed being back.

Back to the present time, how does this Second Division title success compare to others during your footballing career?
It is right up there – no question. Lee and I have put so much effort in over the last three seasons and the lads have been fantastic.

Naturally you have been aware that the Club last tasted this kind of success 25 years ago in season 1985/86. Did that weigh heavily on your mind or expectations? Has it been a millstone or just something to emulate?
No. Something to emulate. We always said we were not here to make up the numbers. We wanted to win something.

Maybe you don't pay much attention to the TFFC history – or is that something important to you?
We knew all about it and wanted this team to be up there in lights along with other successful Fortune teams of the past. I am delighted we have now achieved this!

I am sure you are not one to single out individuals, but do you think there is anyone (or maybe several players) in particular who has/have shone out for you this season?
Two or three had excellent seasons, but the whole squad has been different class and they all deserve praise.

For the second season running you arranged training at the Middlesex University. How much do you think that played in our success?
Third season actually! I think it is important to have training but with only an hour to play with not much can be done. I think it is just nice that we can all get together in the week before a game on a Sunday.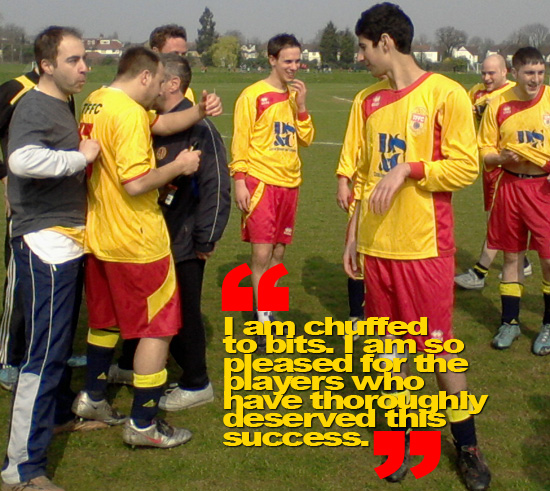 Sorry, third season – wow, time flies by! Looking back at training, were you pleased with how it went or are there things you would have changed in hindsight?
In hindsight training should not be on Wednesdays due to Champions League etc. Also money is a factor. We really need a two-hour session so we can have time to work on things.

At one point Temple Fortune were trailing Norstar by ten points. Did you look ahead and see that as passable or were you the 'one-game-at-a-time' kind of manager who looked no further than your next result?
We had games in hand over them and I always had belief in the squad that we could overhaul them, but I always take it one game at a time.

You come across as having a serious, deep thinking side, Andy. Has this season been very difficult for you in terms of managing and are you the kind of guy who can switch off and enjoy what you have achieved? Or are you the perfectionist who strives for improvement all the time?
Perhaps I am perceived that way by some. I like to think I can have a laugh and a joke as well. I am going to enjoy this, no doubt about it.

Do you take your football home with you and fret about bad results and things that went wrong?
Yes I do. I am always looking to see what I can improve upon.

What were the pivotal moments of the season?
Beating Brixton 4-3 away when we were 3-1 down with about 20 minutes to go. Also knocking Hendon United A out of the cup gave us tremendous belief that we could beat anyone on our day.

At which point did you really think "we're gonna do it!"? Was there ever a time when you thought we were going to blow it big time?
When we beat Woodford 3-2 at home Lee and I thought if we just do what we know we can do, we have a great chance of the title. As for blowing the title, even when we lost to Brixton in the return fixture I was confident we would do it.

There must be many goals scored which stick out in your mind. But which was the best scored during this current season?
I think our most complete performance was against Hendon United B in the league. We won 8-1 and were tremendous. A couple of our goals were terrific team goals. Ben Issacs second goal (our third) against Faithfold B was a fabulous individual effort.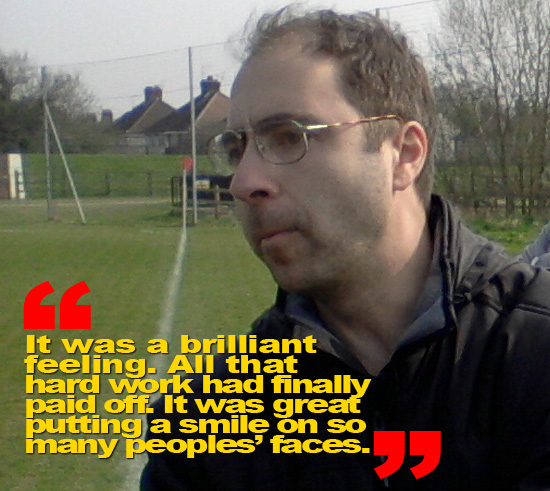 I know you are going to thoroughly enjoy this championship win, what with an awards lunch to come and the MSFL awards evening too. Is this one of the best moments of your football career?
Definitely!

There will come a time in the next few months when we need to sit and discuss next season. What are your initial thoughts about life in Division One in season 2011/12?
We have the basis of a very good squad and with a few additions there is no reason why we can't be challenging again.

You often said in the past that you liked the pitch at Hatch End Playing Fields but you'd be the first to agree that it seems to have deteriorated this season. What are your views on moving? Is it essential to find something better for Division One football?
I think we have to. It is a shame. It could be a lovely pitch if only they looked after it. We have players that can play and they need a better pitch in order to be able to express themselves.

Without a shadow of doubt you are a real Temple Fortune stalwart, Andy. Sum up what that final whistle at the end of the Faithfold match meant to you.
It was a brilliant feeling. All that hard work had finally paid off. It was great putting a smile on so many peoples' faces.

And, of course, being only the second manager to lead the Club to a championship makes you a TFFC Legend! Will you get used to your newfound fame in the TFFC record books?!
Without Lee, none of this would have been possible. He deserves this as much as me.

Andy, thank you very much for your time and again, many congratulations! I'm sure you will be glowing all summer and then the hard work will start once more!
Thanks... this is certainly something to savour after everyone's efforts. Roll on next season!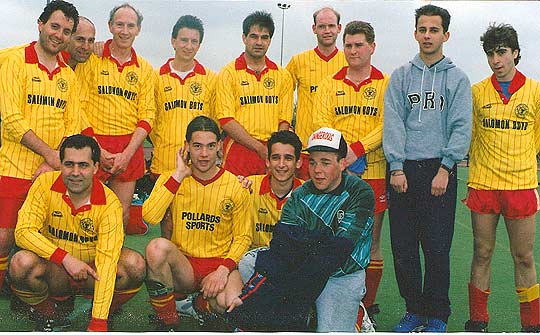 A baby-faced Andy Souber (far right) lines up with the 1992/93 Temple Fortune team which finished third in the MSFL Division Three. The goalkeeper is none other than JC Sports Editor Danny Caro!