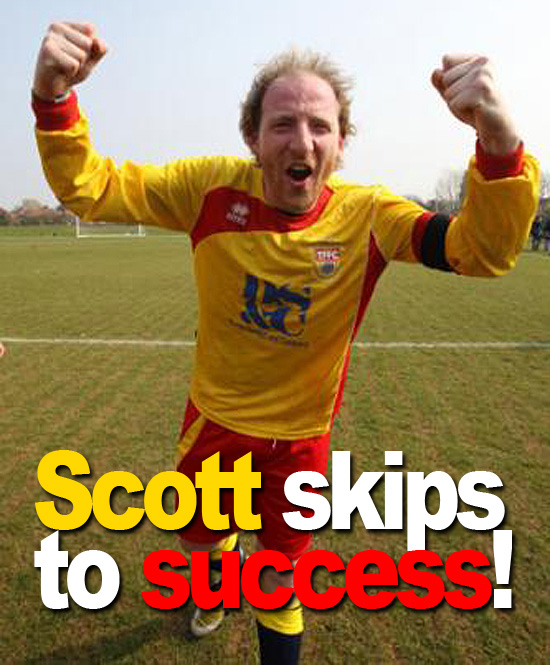 FIRST TEAM SKIPPER SCOTT SHINDLER PLAYED AN INFLUENTIAL PART IN TEMPLE FORTUNE'S MSFL SECOND DIVISION CHAMPIONSHIP SUCCESS DURING THE 2010/11 SEASON. HERE THE CAPTAIN GIVES HIS HONEST APPRAISAL OF HIS FIRST SEASON WITH TEMPLE FORTUNE.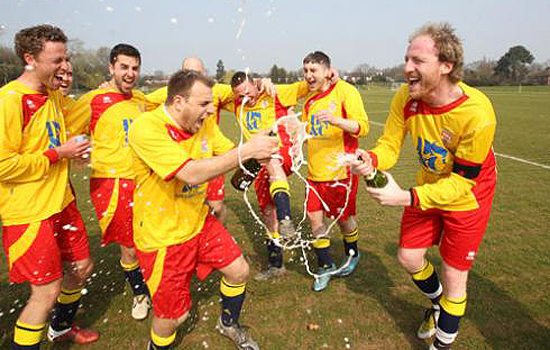 First Team captain Scott Shindler opens the bubbly with Lee Fegan as the championship celebrations begin.

Scott, congratulations on captaining the First Team to the 2010/11 MSFL Div.2 title!
Many thanks, it was an honour to lead such a nice bunch of lads, which became such a strong unit.

I'm not going to make you feel big headed or anything but your arrival at Temple Fortune pre-season was a bit like Gary Lineker signing for Tottenham Hotspur! A big star in a small team! Lol! Tell us about what you achieved at North West Neasden just to make the other TF players drool with envy!
I would like to inform you that Lineker joined Tottenham when Gazza was there so Spurs weren't such a small club! I joined NWN in 2004 and originally played for their 'B' team. In my first and only season with the 'B's we got promoted from Division One (finishing runners-up) to the Premier and we were the first team from Division One to reach the Cyril Anekstein Cup Fnal, which we eventually lost 1-0 to Marshside & Glenthorne. My following season I got asked to play for the 'A's and in that season we won the Cyril Anikstein Cup as well as finishing runners-up in the Prem. The following couple of seasons we finished runners-up and lost another Anekstein Cup Final. Then in 2007 started a three-year dominance of Maccabi football. We won the Premier League three years in a row as well as winning the Peter Morrison Trophy three years in a row, which was an achievement that no team had ever done before. In season 2008/09 we were on for a treble but lost 2-1 in the Anekstein Cup Final.

Well, that's a very successful record! You also played at Athletico Stanmore with Lee Cash. Were you successful there too?
Athletico Stanmore was only around for two seasons as our disciplinary record wasn't great to say the least! In which we finished third and runners-up in Division 5 and 4 respectively. Lee was top scorer in that second year scoring 51 goals… the standard in that division was not great!

Who first suggested to you to come and play for Temple Fortune?
Jack Morris.

Hopefully his suggestion didn't make you fall off your chair onto the floor and roll about laughing?!
To be fair he spent two years asking me!

We know it wasn't the pay so what made a hugely successful player for NWN at the highest level in Maccabi football drop two divisions?
Basically it got very serious at NWN to the point where I had won everything and I thought the time was right to play with my mates to have a laugh. Although I'm sure some of the TFFC players would think that's strange as I take things a little too seriously on a football pitch!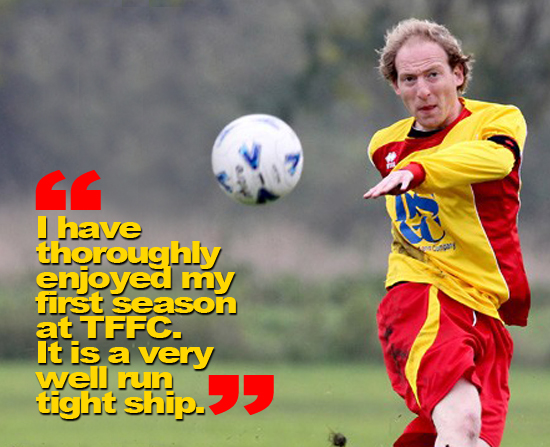 That is because you are a winner, Scott! What did you know about TFFC prior to joining the Club this season?
I knew that it was a nice club with nice people that had decent players. I also wanted to try to bring success with my winning mentality to a club which hadn't had any for a quarter of century!

Very considerate of you, Scott! Your first view of the TF First Team squad must have been at Mill Hill Park, with Lee and Andy taking training. What were your first impressions?
Exactly what I expected, nice guys that were decent footballers. Slightly different to my normal pre-season training but very enjoyable.

What do you believe your presence in the team has offered to your team-mates this season?
I certainly gave them a headache! Hopefully my winning mentality as well as passing on things I have learned playing football for so long.

You may have read Andy Souber's interview. What do you think of the Gaffer and how does he compare with other managers you've played under in terms of how he does the job?
Andy and I had a very open relationship in terms of the team selection and tactics for each match. I know he also had this with Lee and this was good as we were able to pull together and come up with the right choices between us. Andy was always happy to take on board my comments, and although he didn't necessarily always agree, I believe we worked well as a manager/captain combination, as proved by the results on the pitch, whereas in the past I had managers who insisted on it being their way or no way. I think Andy appreciated the experience I brought to the team and was always willing to listen if I had any ideas

Maybe you don't pay much attention to the TFFC history – or is that something important to you?
We knew all about it and wanted this team to be up there in lights along with other successful Fortune teams of the past. I am delighted we have now achieved this!

I presume you enjoyed the 2010/11 campaign. Tell us about your feelings after the match against Faithfold.
It was a fantastic feeling as well as relief! The looks on Nigel's, Andy's and Mike's faces were a picture! We could have had the title wrapped up a few games before and I didn't want the team to become the 'nearly team'!

Did you think the team would go all the way to the championship when you first pulled on that yellow shirt in August? I mean, the Firsts had a great start, winning the first 10 games so you must have had an idea that things were looking encouraging?
Yeah. My goal at the start was to win the League, many wanted promotion but I thought we had a good enough team and squad to win the division. We certainly had the players in reserve, having seen the majority of our competition in our league I knew we could do it.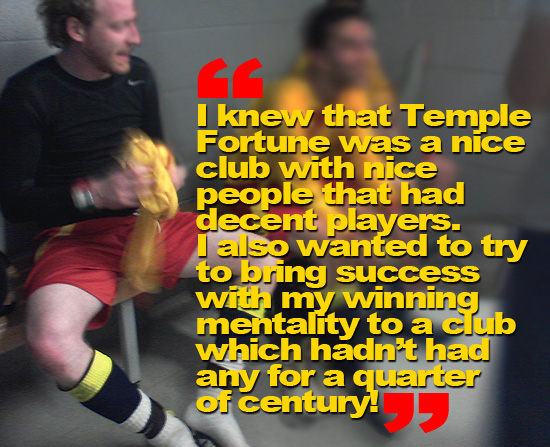 At one point Temple Fortune were ten points behind Norstar. Did you look ahead and see that as catchable or are you a 'one-game-at-a-time' captain who looks no further than your next fixture?
I know a lot of people say "let's take it each game as it comes" but when you are playing catch-up you have to look at every game rather than just the one at a time. When we were ten points behind Norstar I looked at it as a positive as they had dropped a few points here and there. It was simple... we just had to win all our games which I knew we were good enough to do.

At which point did you really think "we're going to do it!"? Was there ever a time when you thought we were going to blow the championship?
I thought we could do it when we won the ugly games. I know Andy thought after the Woodford game it was more than likely but for me it was the games against FC Team when we were awful on an awful pitch but managed a 2-0 win and also against Hendon when our Vice-Captain pulled out on that morning cause he had a headache/cold and players stepped in to do the job!

Your defensive talents need no publicising but we didn't know you are quite handy at scoring too. Your tally of 11 for Temple Fortune this season is the highest total ever by a defender in one season and apparently you are in line for a commemorative award to mark the feat! Is this your highest total in a season for any team?
Oh nice! I look forward to getting that award. It's nice to break a record at such a long established club. From memory that is a personal record in men's football; I remember scoring 10 in a season for NWN.

Earlier in the season you scored a goal against FC Marylebone which won the Goal of the Week for one of the papers. It was a dribble past several players followed by a sumptuous finish which Rob Benson would have been proud of! Have you scored a better goal than this?
I don't think I would ever score a goal like that again even if I tried to! Firstly, I think it was the first nut-meg I have ever pulled off! Secondly I don't think I would ever take a shot from 45 yards and it be on target!

Yes, it sounded like a fantastic effort! You netted a few penalties for the First Team but suffered the indignity of having your one penalty miss captured on video tape! What is your overall penalty record?
I never missed a penalty for NWN 'B' but this season that was the only penalty I missed all season. People are quick to forget that we were 3-2 down against Brixton earlier in the season in a very high pressure situation. I stepped up and made it 3-3 then 5 minutes later popped up with the winner to make it 4-3. That to me was the turning point in our season.

It's been great having such a big successful star on board at TFFC! What have your impressions and feelings been about the Club during your first season?
I am definitely not a star! More of a nuisance/dirty player which I think the team needed! I have thoroughly enjoyed it in my first season. It is a very well run tight ship.

As much as the First Team email banter has been very amusing throughout the season, your "Templeites" captain's messages were of a more serious nature and must have influenced your team-mates to excel on the football pitch! Presumably you have always been a vocal captain who gives as much input as possible?
The emails I sent were to try and get people 'up' for the game and focused. To try and not get too carried away with our position. As we all knew we were playing catch-up for most of the season. I try to be as vocal as I can, sometimes (I'm sure some of the boys will agree) I find it hard to curb my frustration as I am a perfectionist but this has been proved by winning the league!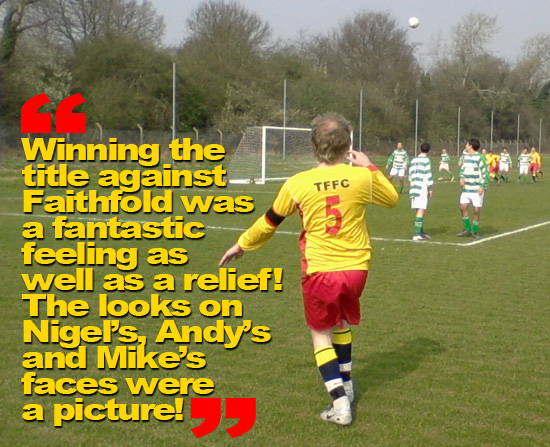 Knowing how influential a good captain can be, how do you get the best out of your players? And do you think you succeeded this season?
I try and motivate them before the game as much as possible. I like to go to certain players before the game and tell them what I think they need to do for the team for that specific fixture. I would like to think I have succeeded as the team was mainly the same from last year and we've gone from finishing sixth I think to champions.

I'm sure you feel as satisfied as anyone with this marvelous championship success. But how does winning this Second Division title compare to others during your footballing career?
It's definitely right up there. To help bring the club success after 25 years without is a massive achievement.

It's good to know you share the sense of history in what the First Team has accomplished this season. How do you think this team can push on in Division One next season?
As is always the case in Maccabi football, it all depends how much of the squad can stick together and progress. There's always players looking to move on, go to uni, have work commitments etc... so it's tough to say.

Beating Hendon United 'A' and coming so close against your former club's 'B' team in cup ties must have encouraged people to think whether or not this team can compete in the MSFL Premier Division. What are your thoughts about that?
Those results did not come as a surprise. We have the players that are good enough to challenge in Division One next season. The players in the team know they have the ability to do so.

Well, I cannot think of anything else to ask! How would you sum up the 2010/11 season and is there anything else you wish to say?
Without Lee, none of this would have been possible. He deserves this as much as me.

Thanks a lot, Scott – you've certainly been an asset to the Club this season, but then, knowing you've won a few pots and pans in the past, we expected that!
It's been my pleasure!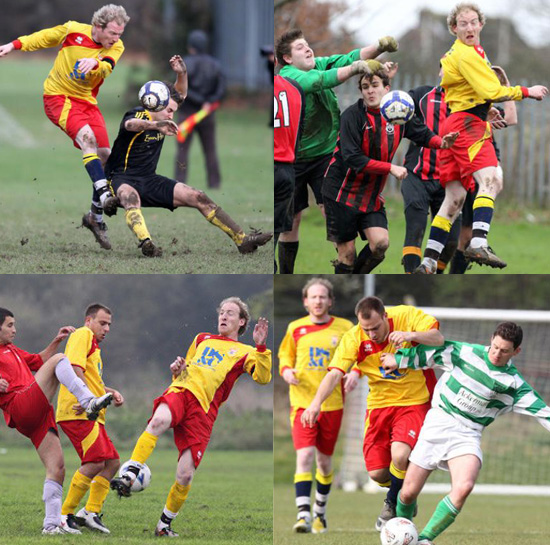 Top left: Scott takes great delight in kicking a Woodford player up the Arsenal! Top right: He leaps high to knod on a corner-kick against Brixton. Bottom left: Scott beats a Hendon United player to the ball to hoof it clear. Bottom right: The captain watches as Lee Fegan tussles for the ball against Faithfold.