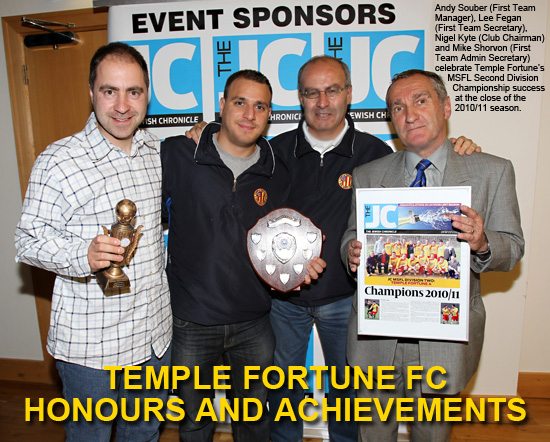 TEAM
Maccabi Union of Great Britain
Peter Morrison Trophy (Southern Area Competition)
Runners-up, 1981/82 (1st XI)
Semi-finalists, 1980/81 and 1989/90 (both 1st XI)

Maccabi (Southern) Football League
League names include M(S)FL, JC-M(S)FL and MGBSFL

Second Division Championship
Champions, 1985/86 and 2010/11 (both 1st XI)
First Division Championship
Runners-up, 1987/88 (1st XI)
Second Division Championship
Runners-up, 2016/17 (1st XI)

Promotions
To Premier Division:
1980/81 (1st XI) and 1987/88 (1st XI)
To First Division:
1978/79 (1st XI), 1985/86 (1st XI), 1989/90 (2nd XI), 2010/11 (1st XI) and 2016/17 (1st XI)
To Second Division:
1982/83 (2nd XI), 1988/89 (2nd XI), 1995-96 (1st XI), 2000/01 (1st XI), 2006/07 (1st XI) and 2014/15 (1st XI)
To Third Division:
2002/03 (2nd XI), 2004/05 (1st XI) and 2011/12 (2nd XI)
To Fourth Division:
1998/99 (2nd XI)
Ron Saunders Sportsmanship & Turnout Memorial Trophy
Winners, 1998/99 (2nd XI)
Barry Goldstein Trophy
(formerly the Minor Invitation Cup)
Runners-up, 2004/05 (1st XI) and 2017/18 (1st XI)
Semi-finalists, 1986/87 (1st XI) and 2010/11 (2nd XI)

Maccabi Masters Football League
Second Division Championship
Runners-up, 2003/04 and 2006/07 (Old Boys XI)
Nathan Horowitz Second Division Cup
Semi-finalists, 2010/11, 2011/12, 2012/13 and 2014/15 (Old Boys XI)
Sportsmanship Trophy
Winners, 2014/15 (Old Boys XI)
Runners-up, 2015/16 (Old Boys XI)
AMFM Five-a-side Championships 'A' Final
Runners-up, 1998/99 (Old Boys XI)
Ralph Epstein Memorial Trophy
Outright Winners
1985, 1988, 1990 and 1993 (all 1st XI)
1996, 1997, 1999, 2000, 2001, 2004, 2005, 2007 and 2008 (all Old Boys XI)
Murray Epstein Old Boys Challenge Cup
Winners, 1993/94 (Old Boys XI)
The Hyde Gymnasium Five-a-side Tournament
Runners-up, 1973
INDIVIDUAL
Maccabi (Southern) Football League
The Solly Littlestone Memorial Cup
(for the Premier Division Footballer of the Year)
Gary Hyams, 1981/82

First Division Player of the Year
David Shone, 1987/88

Second Division Player of the Year
Henry Charles, 1985/86, Robert Benson, 2009/10, Scott Shindler, 2010/11 and Jordan Sharifian, 2016/17
The Susan Lion Memorial Trophy
(for the League's Leading Goalscorer)
Robert Benson, 2009/10
The Jack Wolff Memorial Trophy
(for the Team Secretary of the Year)
Nigel Kyte (on behalf of the 1st XI), 2006/07
Senior XI Representative Badges
Richard Batten, 1977/78
Len Wyse, 1978/79
Gary Hyams, 1981/82
Farley Conway, 1983/84
Alan Mattey, 1988/89
Jason Bookbinder, 1993/94
Under 19's XI Representative Badges
Steven Feiger, 1982/83
Neil Hart, 1982/83
Stuart Hyams, 1983/84
David Klahr, 1987/88

Divisions 2 and 3 XI Representative Badge
Jeremy Fess, 1985/86

Maccabi Union of Great Britain
Maccabiah Games Representative XI
Trial Match
Paul Squires, 1982
Representative 'B' XI
Israel Tour Squad
Nigel Kyte, 1982
Maccabi GB Lifetime Achievement in Sport Award
Nigel Kyte, 2003
Media Awards
Jewish Chroncle MGBSFL (Overall) Team of the Year
Robert Benson, 2009/10 and Scott Shindler, 2010/11

Jewish Chroncle MGBSFL First Division Team of the Year
Shai Davidi, 2012/13

Jewish Chroncle MGBSFL Second Division Team of the Year
Robert Benson, 2009/10

Jewish Chroncle MGBSFL Third Division Team of the Year
Ben Isaacs, 2006/07

Jewish Chroncle MGBSFL Best Newcomers' Team of the Year
Brett Stead, 2011/12

London Jewish News Old Boys Team of the Year
Bryan Silver, 2002/03

Jewish Chroncle MGBSFL Masters Team of the Year
Graham Meyer, 2012/13

Left:
The Maccabi (Southern) Football League Second Division Championship Shield won by Temple Fortune's First Team in 1985/86, which was the Club's 10th season in Maccabi football. The First Team won 17 of their 20 Div.2 fixtures which remains a Club record.

Right:
The M(S)FL Ron Saunders Sportsmanship and Turnout Memorial Trophy which Temple Fortune's Second Team won at the close of the 1998-99 season – the Second XI's sole piece of league silverware.

WON IN 1993-94
M(S)FL SECOND DIVISION PLAYER OF THE YEAR AWARD AND M(S)FL LEADING GOALSCORER'S AWARD, 2009/10
The First Team's Rob Benson received two prestigious prizes at the M(S)FL Awards Evening, held at EDRS Stonegrove on Monday 7th June 2010. He captured the Susan Lion Memorial Trophy (pictured far left) which is the M(S)FL Leading Goalscorer's Award for the entire League! Rob also won the M(S)FL Second Division Player of the Year Trophy, Temple Fortune's first divisional accolade since 1988. After collecting the First Team Player of the Year (with a record-breaking 100% maximum votes) and Leading Goalscorer's Awards (thanks to 32 goals in all matches) – plus the TFFC Leading Appearances Award too – season 2009/10 certainly proved to be hugely successful for Rob Benson!



M(S)FL TEAM SECRETARY OF THE YEAR AWARD, 2007
At the M(S)FL Awards Evening held on Thursday 14th June 2007 at EDRS Stonegrove, the Jack Wolff Memorial Trophy for the Team Secretary of the Year, which is one of the Maccabi (Southern) Football League's most prestigious awards, was presented on behalf of the Club to Chairman Nigel Kyte. He won another award earlier in the evening when presented with the Maccabi Masters Football League Referee of the Year Award but an even better accolade was to follow which completely took him by surprise.



MACCABI GB LIFETIME ACHIEVEMENT IN SPORT AWARD, 2003
Nigel Kyte, Temple Fortune FC Chairman, shows his Maccabi GB Lifetime Achievement in Sport Award alongside his wife Lynne. Nigel received this prestigious award for 35 years of dedicated service to TFFC in addition to 28 years as a M(S)FL referee. He was presented with this plaque plus a JNF framed certificate at the Maccabi GB Sports Awards for 2003 in February 2004.