Drive along Golders Green Road towards the North Circular Road end, take the turning into Princes Park Avenue next to where the Prince Albert Pub (then the Harvester) used to be, continue a short way and take first right into Leeside Crescent.
Then turn first left into Oakfields Road, drive up the hill and park by the roadside opposite the old dark green metal gates. Within the confines of the green railings to your left is PRINCES PARK (
map
), a smallish wooded area of parkland in Temple Fortune, a district of Golders Green, North West Eleven, and part of the London Borough of Barnet.
Two concrete-surfaced tennis courts stand left and right of the pathway bordered by rose bushes, which leads straight down a slight slope to the old wooden shelter with its toilets either side, edged with curved hedges. To the left behind Court One is an area of grass on a slope with quite a few trees, two of which form the goalposts at the top just beyond the path, with another two appropriately placed 80 yards or so down the incline. This area was named the 'bottom pitch' and staged many kick-abouts and games between 1966 and 1968.
Further up the park, beyond the concreted playground with its original twin swings, roundabout and green 4-seater rocking horse, which have since been replaced by modernised fenced-in amusements, a larger area of mown grass leads onto the 'top pitch'; this lay adjacent between the long-removed grassed-over air raid shelter hills and the small rose garden near the park keeper's hut located in the top right hand corner of the park. Small 4 or 5-a-side games were generally played on the 'bottom pitch'; anything between 6 and 11-a-side was staged on the larger area of the 'top pitch', either long ways or across depending on the numbers participating. Jumpers, cricket stumps or poles were used as goalposts.
The Kyte family lived at 'Woodside', No.1 Oakfields Road, which was located next to the park.TFFC was run from this location by Nigel and Peter Kyte from 1968 until they both left the family home to move into their own. Outside 'Woodside' was the famous low brick wall where the Club was formed in December 1968.
This page is dedicated to the memory of Princes Park which played such an instrumental part in the Club's embryonic years.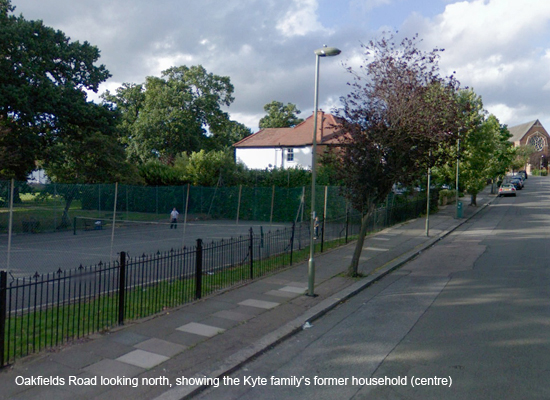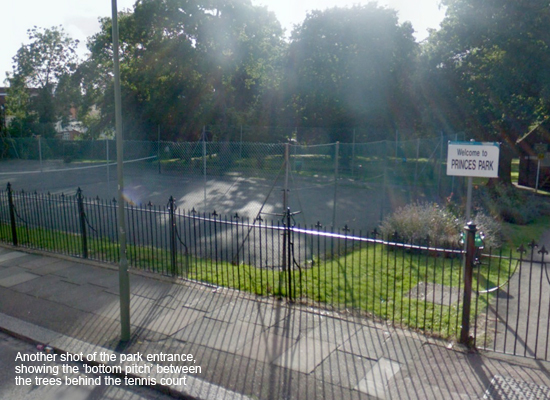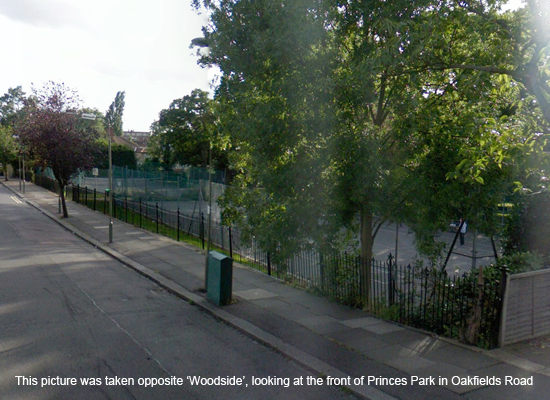 Near the Oakfields Road entrance to Princes Park looking to the right. The house in the middle behind tennis court 2 is Woodside at One Oakfields Road, where the Kyte family resided for over 40 years.

The two trees in the foreground represent the 'goalposts' used at the higher end of the 'bottom pitch'! The pathway on the left was the touchline; play continued much wider on the right side of the pitch.

Standing in the goalmouth of the higher goal, looking down the incline of the 'bottom pitch'. The lower goal (two trees) can be seen to the left of the prominent large tree.

The view seen from the left side of the lower goal. The green wire tennis court fence can be seen to the immediate right of the higher goal. The fence on the right lies behind the 'touchline' path.

A side-on view of the middle section of the 'bottom pitch', showing the 'touchline' path and fence behind it. The park had houses backing on from Leeside Crescent and Princes Park Avenue, and part of Oakfields Road.

Standing in the centre of the lower goal looking up the pitch. You can see the higher goal at the top infront of the path. Beyond that is tennis court 1 and then Oakfields Road.

Peter Kyte, who played many a game in his youth on this very pitch (and who was a very capable goalkeeper), shows the scale of the higher goal. The 'goalpost' tree to his left is now overgrown; in years gone by this was never an obstruction.

The larger expanse of the 'top pitch', used for larger games when necessary. Small 4 or 5-a-side games were played on the 'bottom pitch'; anything between 6 and 11-a-side went to the 'top pitch'. The tree on the right was a popular cricket wicket in the summer!

Simplified diagram of Princes Park in Temple Fortune, London NW11