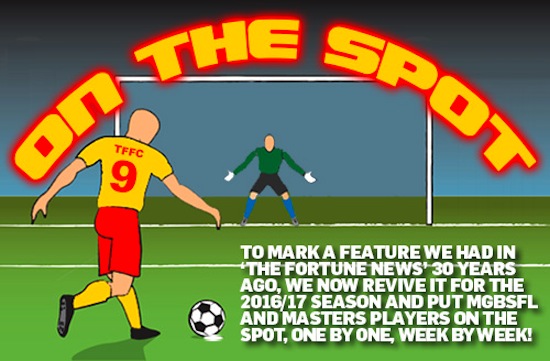 Thirty years ago, during the successful 1985/86 season, we ran a series called 'ON THE SPOT' in The Fortune News (the Club's newsletter). The series featured players who were asked to list various pieces of information about themselves.

For the 2016/17 season, to commemorate the 1985/86 M(S)FL Div.2 championship-winning campaign, we are bringing back 'ON THE SPOT' for present-day MGBSFL and Masters players. You MUST be a current paid-up Club Member to participate. If you are eligible and wish to take part, please copy the information below and paste into an email, filling in the info requested.

IMPORTANT: Please be as accurate as you can (proper use of UPPER and lowercase letters, spelling and punctuation) so that all we need to do is copy and paste, without too much additional work correcting typos. PLEASE DO NOT TYPE IN ALL CAPS!

Subject to numbers received, we will include each one received on the Facebook page, publishing submitted in the order we receive them. Remember, this will appear on Facebook so no rudeness please! There is absolutely no obligation to take part. The 'ON THE SPOT' feature is fun-based for the entertainment of the Facebook members.

If you are already a Facebook member, it is bound to draw many 'likes' from your family and friends! If you're not a Facebook member, please join our page and enjoy plenty of TFFC-related material (including 'ON THE SPOT"!) Should you wish to send a photo for use, please feel free and email it along with your 'On The Spot' answers!


So here we go..... copy and paste the text below into an email and type in your answers. Remember, please use UPPER and lowercase letters, and accurate spelling and punctuation – your replies must look presentable!

MAKE OF CAR CURRENTLY OWNED: A 2011 FORD MONDEO 1.8 A Good Family Car <<< INCORRECT!

MAKE OF CAR CURRENTLY OWNED: a 2011 ford mondeo 1.8 a good family car <<< INCORRECT!

MAKE OF CAR CURRENTLY OWNED: A 2011 Ford Mondeo 1.8. A good family car. <<< CORRECT!




GENERAL INFO:

FULL NAME:

YEAR OF BIRTH:

ZODIAC SIGN:

HEIGHT:

PLACE OF RESIDENCE:

OCCUPATION:

MAKE OF CAR CURRENTLY OWNED:

BEST CAR EVER DRIVEN:

NO. OF YEARS PLAYING COMPETITIVE FOOTBALL:

HOBBIES OR PAST-TIMES OTHER THAN FOOTBALL:

HOW WERE YOU INTRODUCED TO TFFC?

FIRST MATCH FOR TFFC AND SEASON:

APPROX. NO. OF APPEARANCES FOR TFFC:

FOOTBALL POSITION WITH TFFC:

FAVOURITE FOOTBALL POSITION:

MOST MEMORABLE MATCH FOR TFFC:

MOST MEMORABLE GOAL FOR TFFC:

FAVOURITE ASPECT OF TFFC:

BEST OPPONENT SEEN PLAYING FOR TFFC:

FAVOURITE SUNDAY MORNING GROUND/VENUE ANYWHERE:

BEST PITCH YOU'VE PLAYED ON WHILST WITH TFFC:

BEST PLAYER SEEN PLAYING FOR TFFC:

YOUR PREVIOUS FOOTBALL TEAMS PLAYED FOR:

FOOTBALL HONOURS GAINED OR OTHER NOTABLE FOOTBALLING ACHIEVEMENTS:

ALL-TIME HIGHLIGHT DURING YOUR PLAYING CAREER:

ALL-TIME LOW DURING YOUR PLAYING CAREER:


FAVOURITES:

FAVOURITE COLOUR:

FAVOURITE TV SPORT OTHER THAN FOOTBALL:

FAVOURITE MEAL OR FOOD:

FAVOURITE MUSIC OR GROUP:

FAVOURITE MUSICIAN/SINGER/PERFORMER:

FAVOURITE COMEDIAN/COMEDIENNE:

FAVOURITE HOLIDAY RESORT:

FAVOURITE COUNTRY VISITED:

FAVOURITE MOVIE:

FAVOURITE THEATRE PLAY:

FAVOURITE CAR (MONEY NO OBJECT):

FAVOURITE NEWSPAPER:

FAVOURITE MAGAZINE:

FAVOURITE TV PROGRAMME:

FAVOURITE PROFESSIONAL FOOTBALL TEAM:

FAVOURITE NON-LEAGUE FOOTBALL TEAM:

FAVOURITE FOOTBALL GROUND VISITED:

FAVOURITE FOOTBALLER:

FAVOURITE SPORTS PERSONALITY:


EITHER/OR PREFERENCES:

BITTER, LAGER OR STOUT?

RED WINE OR WHITE WINE?

BROWN OR WHITE BREAD?

CHINESE OR CURRY?

FRENCH MEAL OR ITALIAN?

STEAK OR SALAD?

SMOKED SALMON BAGEL OR SALT BEEF SANDWICH?

JAM OR MARMITE?

BBC OR ITV?

SEASON TICKET HOLDER OR SKY 'ARMCHAIR' FAN?

CRICKET OR TENNIS?

GOLF OR JOGGING?

GYMNASIUM OR PUBLIC HOUSE?

SCOTLAND OR WALES?

BARCELONA OR REAL MADRID?

AC MILAN OR INTERNATIONALE?

CELTIC OR RANGERS?

BLONDES OR BRUNETTES?

ANYTHING TO ADD?



The end! This will be used at some point during the season. Many thanks for your time. :)

Please send your submission via email to info@tffc.co.uk.