In November 2015, TFFC donated two sets of old football shirts to KitAid as part of Maccabi GB's 'Mitvah Day'.
KitAid is a charity which collects and sends no-longer-wanted football kit (shirts, shorts, boots, goalkeeper gloves and shinpads, in good condition) to children and adults who love football, but live in some of the poorest parts of the world. Since its founding in 1998, KitAid has sent 200,000 kits to children and adults in Africa, Asia and Eastern Europe, bringing a little bit of joy to those in need. As well as good quality, usable, clean football shirts, boots, shorts would be much appreciated.

The shirt sets, which included a goalkeeper's shirt in both, were dropped off at Maccabi London Brady in Rowley Lane, in an old kit bag. Hopefully they found their way to some foreign land to help under-privileged footballers!

Said Nigel Kyte: "The shirts were in good condition but seem so small compared to what we have nowadays. We used to joke about those old shirts as being 'nipple huggers', especially the old Highgate shirts! I think, generally speaking, shirts used to be a tighter fit in those days. Joking aside, these two sets can be used by youths and I am sure will last a few years more. I believe this has been a worthwhile donation by TFFC and I am delighted the shirts will be put to good use abroad."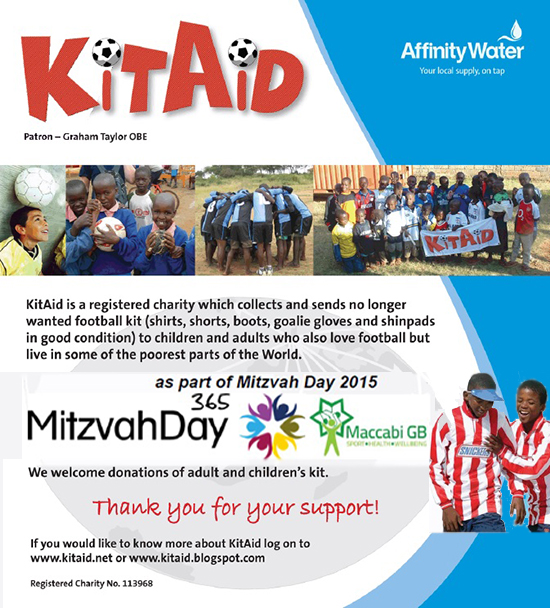 Helping a worthwhile cause
This is how TFFC became involved in this worthwhile project. MGBSFL Chairman David Wolff sent an email to all clubs about the 'Mitzvah Day'. He said: "I am sending to you all a further reminder that Sunday 22nd November is Mitzvah Day. Maccabi GB are collecting unwanted football kits together with KitAid. Mitzvah Day is the Jewish community's annual global day of social action and giving, where many thousands of participants give their time rather than their money, making a huge difference to a range of people, causes and charities throughout the year."

Nigel takes up the story. "I know that I have half a dozen TFFC kits packed in holdalls stacked in my garage at home, some usable as and when required and others surplus to requirements. So David's email made me think that it is high time I cleared a couple of bags, since I had at least two sets of old shirts which could be put to good use by KitAid."

The 1983/84 shirts
The first set he found, consisting of 10 outfield shirts plus a goalkeeper's jersey, were the 1983/84 yellow shirts with red pinstripes which were originally brought for the Second Team by Steve Feiger. Two seasons later, they were elevated to the First Team, who used them with red shorts throughout the 1985/86 season. This was a very significant season for Temple Fortune, playing in the 10th season in the M(S)FL.

"The First Team won the Second Division championship wearing these Liverpool clash shirts made by Umbro," said Nigel, "so they have sentimental value to me and I released them with a shade of reluctance. Jeremy Fess, still playing for us with the Old Boys, would have worn one of these shirts when he joined the Club in 1984."

Another reason why they were significant was because 1985 was the first time a TF team wore yellow shirts and red shorts; this set comprised of the very shirts initially making up these iconic Temple Fortune FC colours.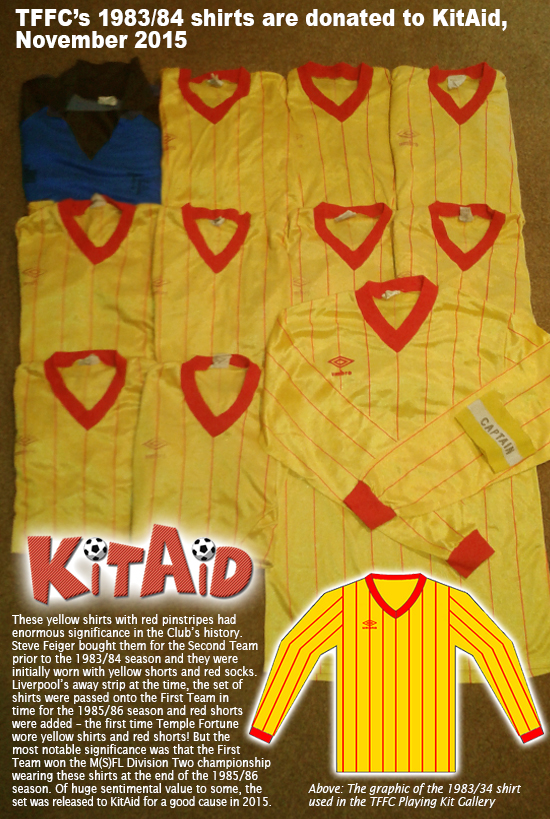 The 1993/94 shirts
The second set of shirts, containing 11 outfield shirts and one 'keeper's jersey, were provided by Nick Waitsman (our current Vice-Chairman) for the original Old Boys team in 1993, which played two 'past v present' games to help celebrate the Club's Silver Anniversary. It is a strange design for a football shirt – two shades of blue (sky and navy) split into diagonals. These shirts were used by Highgate Wanderers FC who used to play in the M(S)FL for a number of years from 1976/77 onwards (they joined the League at the same time as we did).

Nick, who played for Highgate for a few seasons with Steve Bourne and Paul Jordan (they too played for Temple Fortune), donated the kit – sky blue shorts and socks included – for use by our new Old Boys side for the 1993/94 matches. The shirts saw further rare appearances in subsequent seasons when needed as 'clash' kit before falling redundant as new kits were being purchased. So the real significance of the 'Highgate' shirts was that they were the Old Boys XI's first colours in 1993/94, when, under the guise of 'Old Fortunians', they won the Murray Epstein Old Boys Challenge Cup in April 1994.

Finally, back to Nigel Kyte: "I must admit that I am a hoarder so releasing stuff does not come easy to me! I have over 40 years of TFFC memorabilia scattered around including football kit galore. But I do feel the time was right to donate these two sets to a worthwhile cause. I know that footballers in some part of the world will benefit from TFFC kit – it's a shame that they will never know the significance of the shirts passed on to them!"