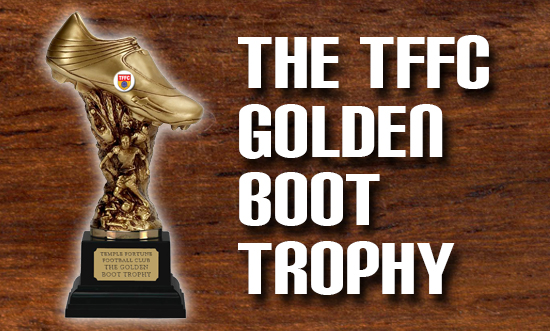 The Club's Leading Goalscorers' awards have rewarded players topping the scoring lists annually for many years, based upon goals scored in ALL matches – league, cup and friendlies.
There have been separate awards for the three Temple Fortiune teams, going back to season 1976/77 when the Club first participated in Sunday League football. Opinion has often been divided in the past as to whether goals scored in competitive matches only should count. But since the Leading Goalscorers' awards were always presented for the annual highest tallies which included friendlies, the original criteria was never altered over the years.
So what if only league and cup goals counted, the 'meaningful' goals scored in competitive fixtures as opposed to those netted in 'meaningless' friendlies? Well, that is where the
TFFC Golden Boot Trophy
comes into play – arguably the Club's ultimate top scorers' accolade!
We've taken the leading goalscorers of the First Team, Second Team and Old Boys Team, compared their records each season, and 'awarded' the GBT to the annual top marksman across the Club! Some would say that this is the proper way of deciding any TFFC leading goalscorer since the competitive goals are the
only
ones which should really count! We say 'awarded' because the Club has never actually recognised the Golden Boot 'winner' as an official Club Award each season. But this list of alternative top scorers is worthy of inclusion on the website for prosperity to 'reward' those netting the most
competitive
goals.
The trophy displayed below is symbolic of what the TFFC Golden Boot award would probably look like if this was indeed an official Club Award. And beneath the images of engraved plates you will find a full list of the top two annual scorers of competitive goals across the Club, together with the statistics to back up each inclusion. For every individual named in first place, there is no tangible award as such to be presented but the very inclusion in the list on the website makes each Golden Boot Trophy 'winner' an ultimately 'real' TFFC leading goalscorer!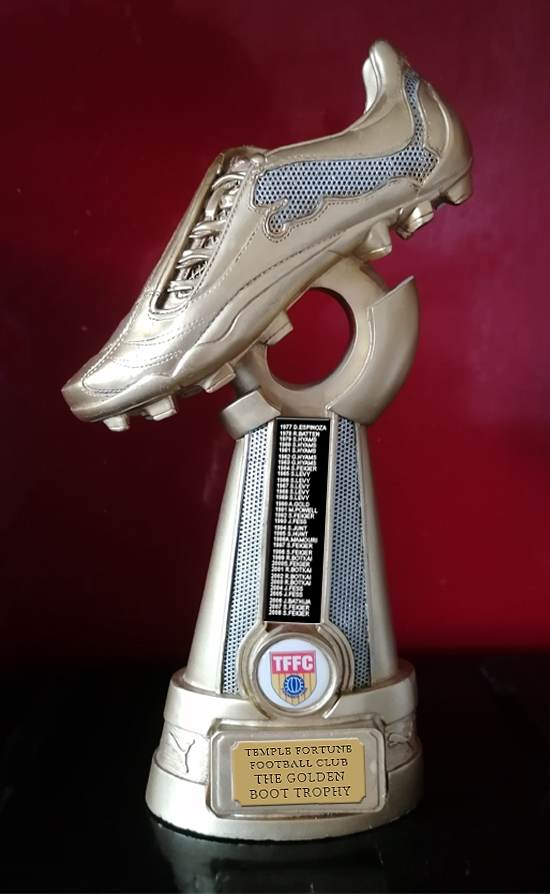 THE GOLDEN BOOT TROPHY – LIST OF WINNERS
All trophies have the names of winners engraved on them – so below are the plates 'located' on the Golden Boot Trophy plinth.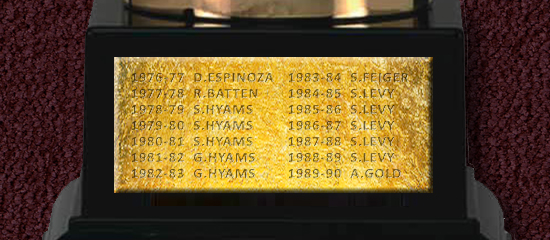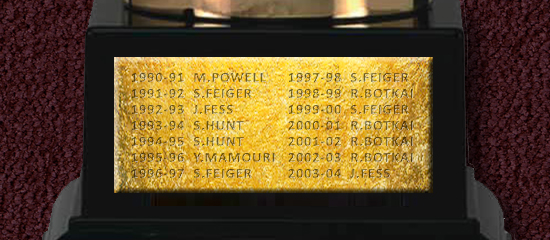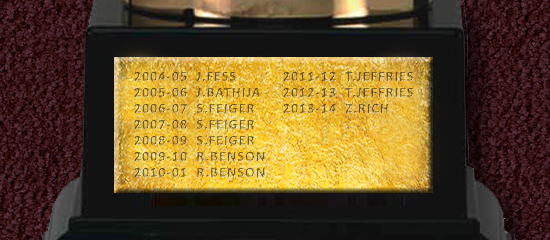 THE GOLDEN BOOT TROPHY – ANNUAL STATISTICS

| | | | | | | | |
| --- | --- | --- | --- | --- | --- | --- | --- |
| SEASON | XI | FIRST PLACE | CG | XI | SECOND PLACE | CG | TEAMS |
| 1976/77 | 1sts | Danny Espinoza | 18 | 1sts | Andrew Gold | 6 | 1 |
| 1977/78 | 1sts | Richard Batten | 24 | 1sts | Blair Krempel | 21 | 1 |
| 1978/79 | 1sts | Steven Hyams | 20 | 1sts | Marcel Plesner | 11 | 1 |
| 1979/80 | 1sts | Steven Hyams | 20 | 2nds | Richard Curtis | 13 | 2 |
| 1980/81 | 1sts | Steven Hyams | 19 | 1sts | John Nitka | 18 | 2 |
| 1981/82 | 1sts | Gary Hyams | 26 | 2nds | Steven Feiger | 19 | 2 |
| 1982/83 | 1sts | Gary Hyams | 21 | 2nds | Steven Feiger | 17 | 2 |
| 1983/84 | 2nds | Steven Feiger* | 12 | 1sts | Steven Feiger | 9 | 2 |
| 1984/85 | 1sts | Stephen Levy | 18 | 1sts | Danny Espinoza | 8 | 2 |
| 1985/86 | 1sts | Stephen Levy | 39 | 1sts | Steven Feiger | 36 | 2 |
| 1986/87 | 1sts | Stephen Levy | 20 | 1sts | Henry Charles | 19 | 2 |
| 1987/88 | 1sts | Stephen Levy** (15 A) | 12 | 1sts | Jeremy Fess (19 A) | 12 | 2 |
| 1988/89 | 2nds | Stephen Levy*/** (7 A) | 12 | 1sts | Stephen Levy (18 A) | 12 | 2 |
| 1989/90 | 1sts | Antony Gold | 9 | 2nds | Stephen Levy | 7 | 2 |
| 1990/91 | 1sts | Mark Powell | 22 | 1sts | Evan Hay | 16 | 2 |
| 1991/92 | 1sts | Steven Feiger | 13 | 1sts | Barry Gold | 8 | 1 |
| 1992/93 | 1sts | Jeremy Fess § | 23 | 1sts | Steven Feiger | 21 | 1 |
| 1993/94 | 1st | Steven Hunt | 34 | 1sts | Steven Feiger | 9 | 1 |
| 1994/95 | 1sts | Steven Hunt | 25 | 1sts | Darren Conway | 5 | 1 |
| 1995/96 | 1sts | Yali Mamouri § | 6 | 1sts | Robert Botkai | 4 | 1 |
| 1996/97 | 1sts | Steven Feiger | 17 | 1sts | Robert Botkai | 7 | 1 |
| 1997/98 | 1sts | Steven Feiger | 5 | 1sts | Robert Botkai | 4 | 1 |
| 1998/99 | 2nds | Robert Botkai | 25 | 1sts | Yali Mamouri | 23 | 2 |
| 1999/00 | 1sts | Steven Feiger | 30 | 2nds | Robert Botkai | 21 | 3 |
| 2000/01 | 2nds | Robert Botkai | 15 | 1sts | Yali Mamouri | 12 | 3 |
| 2001/02 | 2nds | Robert Botkai | 20 | 1sts | Ricky Stone | 7 | 3 |
| 2002/03 | 2nds | Robert Botkai | 16 | OBs | Steven Feiger | 9 | 3 |
| 2003/04 | OBs | Jeremy Fess § | 9 | OBs | Bryan Silver | 5 | 3 |
| 2004/05 | OBs | Jeremy Fess | 14 | 1sts | Kevin Goldberg | 13 | 2 |
| 2005/06 | 1sts | Jeff Bathija | 14 | OBs | Jeremy Fess | 12 | 2 |
| 2006/07 | OBs | Steven Feiger | 24 | OBs | Robert Botkai | 23 | 2 |
| 2007/08 | OBs | Steven Feiger | 20 | 1sts | Ben Isaacs | 18 | 2 |
| 2008/09 | OBs | Steven Feiger | 12 | 1sts | Robert Benson | 11 | 2 |
| 2009/10 | 1sts | Robert Benson | 28 | OBs | James Ryan | 13 | 2 |
| 2010/11 | 1sts | Robert Benson | 19 | OBs | Robert Botkai | 12 | 3 |
| 2011/12 | 2nds | Terry Jeffries | 20 | OBs | Yali Mamouri | 12 | 3 |
| 2012/13 | 2nds | Terry Jeffries** (21 A) | 15 | 1sts | Kane Gilbery (27 A) | 15 | 3 |
| 2013/14 | 1sts | Zack Rich | 7 | OBs | Yali Mamouri** (7 A) | 6 | 2 |
Key:
CG = Number of Competitive Goals scored; XI = Temple Fortune eleven (or team); Teams = Number of TFFC teams in operation during that particular season
* = Was the leading goalscorer for two teams
** = Tied with one or more players but declared the 'winner' due to making fewer appearances (as shown by the figure followed by the letter 'A')
§ = Did not win that particular season's Leading Goalscorers' Award