PETER KYTE REACHES 700 APPEARANCES FOR TEMPLE FORTUNE!


On Sunday 30th October 2011, PETER KYTE, co-founder of the Club, played his 700th match for Temple Fortune FC. To mark the occasion, we have asked several long-serving players to write a tribute to the Club's appearances record-holder. Congratulations to Peter, truly a TFFC Legend if ever there was one!
On the Management Committee for many years as General Secretary and Treasurer, Peter was instrumental in the original formation of the Second Team. Until Bryan Silver overtook him, he was the leading goalscorer from midfield for many seasons. His many achievements with Temple Fortune include the following: MSFL Ron Saunders Sportsmanship/Turnout Trophy (2nd XI) winner, Chairman's Merit Award (2), Hellmuth Feiger Memorial Trophy Achievement Award, 2nd XI Player of the Year (3), Old Boys XI Clubman of the Year, Leading Appearances Award (2) and Management Committee Long Service Awards (15 years and 20 years).


First Team

Second Team

Old Boys Team

Total

226 (26 sub) = 252

253 (9 sub) = 262

154 (32 sub) = 186

633 (67 sub) = 700

26 goals

43 goals

18 goals

87 goals

Honours and achievements: MSFL Ron Saunders Sportsmanship & Turn-out Trophy (Second XI) winner, 100 Club, 200 Club, 300 Club, 400 Club, 500 Club, 600 Club, 700 Club, The Chairman's Merit Award (twice), The Hellmuth Feiger Memorial Shield for the TFFC Achievement Award, Second XI Player of the Year (three times), Old Boys XI Clubman of the Year, Leading Appearances Award (twice), Long Service Award as General Secretary (15 years), Long Service Award (20 years), Long Service Award as Treasurer (27 years), Serving Management Committee Officer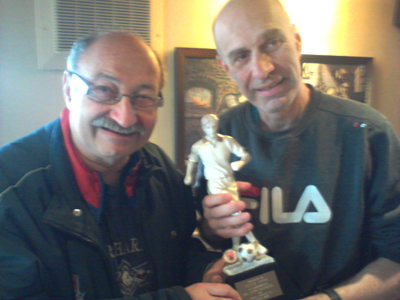 Above: MSFL Chairman David Wolff presents Peter with his commemorative trophy on Sunday 6th November 2011 at the Jolly Badger. The presentation was attended by Club Members Robert Botkai, Tony Espinoza, Lee Fegan, Robert Jay, Nigel Kyte, Gavin Levy, Mike Shorvon, Bryan Silver, Oliver Squires and Nick Waitsman.

---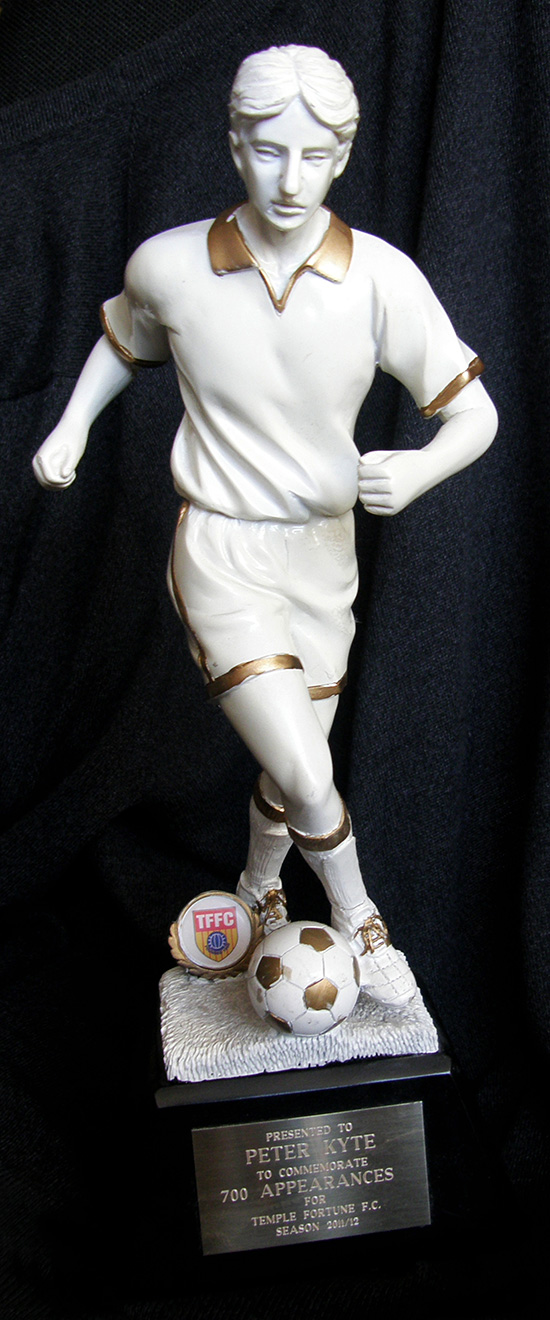 "700 games huh? Just think what Peter would have managed had he not retired at least twice through injury! You'd have thought that after 700 games Peter would have learned how to time a tackle but I guess, with Paul Scholes, he's in good company! Many a time I've stood on the half way line cringing following a Peter crunch. I try to explain to my defenders that he was just a bit late and he's such a nice guy but…! Well done, Peter. An amazing guy and a TFFC stalwart. Enjoy your 700th game and stay on your feet!"
Robert Botkai

"It is hard to believe that the concept of a one-club man exists in this day and age. Peter was part of the Temple Fortune team that was my first in men's football. He was the kind of player that you love to have on your team and equally, hate to play against. He is far from a saint on the pitch, but is still clearly an example to us all. If only there were eleven Peter Kyte's. 700 not out. An incredible achievement. Very well batted, Peter!"
Danny Caro

"I first played with Peter in 1981 around about this time of year so 30 years on I am delighted to see Peter still trying to play week in week out! He is a real credit with his battling efforts to try to play every week after all this time. I am thrilled he will be the only player to get to 700 appearances. It's a record to be exceptionally proud of. Well done, Peter – 700 appearances for your beloved club! (Nearly as many serious fouls that you have committed!)"
Steve Feiger

"I'd like to say a few words about Peter, after having played against him for over 20 years when I was with Stamford Hill and then playing with him for Temple Fortune for around 12 years. Peter is the type of player (in his prime) that would be one of the first players I would have down on the team sheet. He has always been very competitive whether it be in midfield which I think is his best position, or otherwise in defence. Peter is a dedicated team player, and always gives 100% commitment. Although he would be the first to admit, he may not be the most technically gifted of players, he more than makes up for that with his enthusiasm and effort. Over the years, the most skilful of opposing players have been stopped in their tracks by one of Peter's tackles. He is always available for selection, never wanting to let the team down and has played through injury and also on several occasions volunteered to go goal when no else would come forward. Even at the grand old age of 54 he is still as passionate as ever about the game and I doubt whether anyone else in Maccabi Football can or will match his proud record of making 700 appearances for one club. Congratulations and may you continue playing for a few more years yet."
David Goldberg

"My brother's 700 appearances for the Club is truly an epic feat of commitment, dedication and loyalty to one club. Peter has overcome some football-threatening injuries to remain playing for Temple Fortune over a playing career spanning over 41 years. Yes, it's incredible to think that he made his debut in 1970 at the age of just 14! Heartiest congratulations go to Peter who has served the Club as man and boy, you could say!"
Nigel Kyte

"To say that Peter is a bit of a legend would be an understatement. At any level of the game this kind of achievement is remarkable and watching the way Peter still throws himself into games, so fully committed is great to see. Whilst the tackles may have got slightly later as time goes by, there are many who would be happy to play to half the standard he has set at his age. Well done, Peter – you fully deserve the recognition and your name on the team sheet, as well as being one of the all round good guys on a Sunday morning."
Andy Montlake

"I joined Temple Fortune in 1988, and played until I was forced to retire through injury earlier this year. During those 23 years, I have played in many games with Peter. Whilst I'm sure he would agree that he wasn't the best player, he was certainly one of the most committed – committed to the club (as his phenomenal achievement of 700 games will attest), committed to the team (as his willingness to play in many positions will attest), and committed in the tackle (as the bruised ankles of many of his opponents will attest). I enjoyed playing alongside Peter – he is the kind of player who puts in all of the hard graft without necessarily getting the recognition it (and he) deserves. I'm grateful for this opportunity to record my congratulations to him for reaching this momentous milestone, and wish him every success in the future – here's to the next 700!"
Bryan Silver

"Peter's feat is truly amazing at our amateur level. His passion for football and for winning has kept him at the top of his game. Although we all lose our pace and endurance his competitiveness is as strong as ever. Congratulations to both of you for keeping the Club going over so many seasons often when we struggled to field one team let alone three!"
Garry Simpson

"Great achievement, Peter! Keep on kicking... the ball, that is!"
Nick Waitsman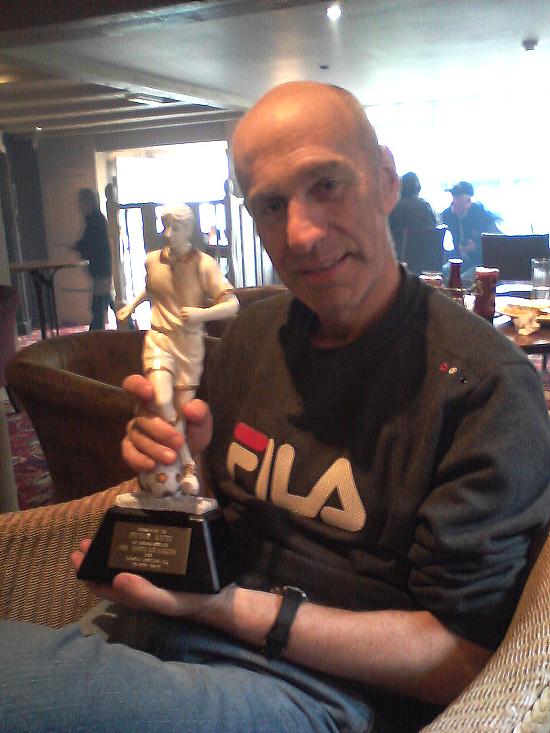 Below are several photos taken during the many years of his Temple Fortune playing career.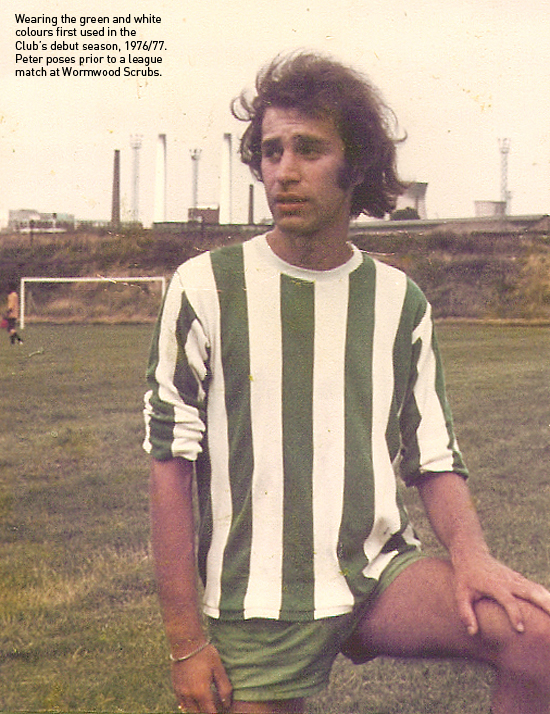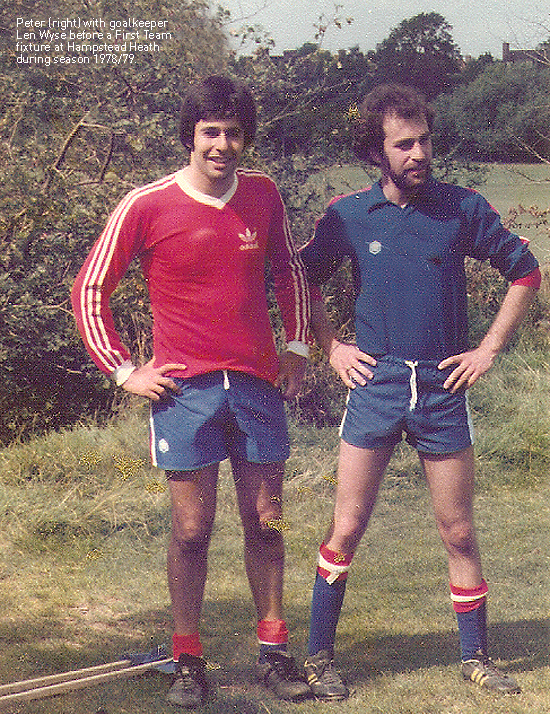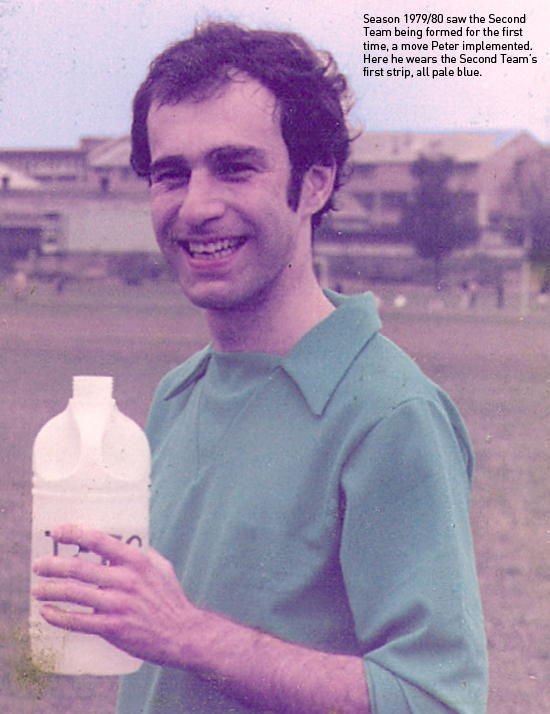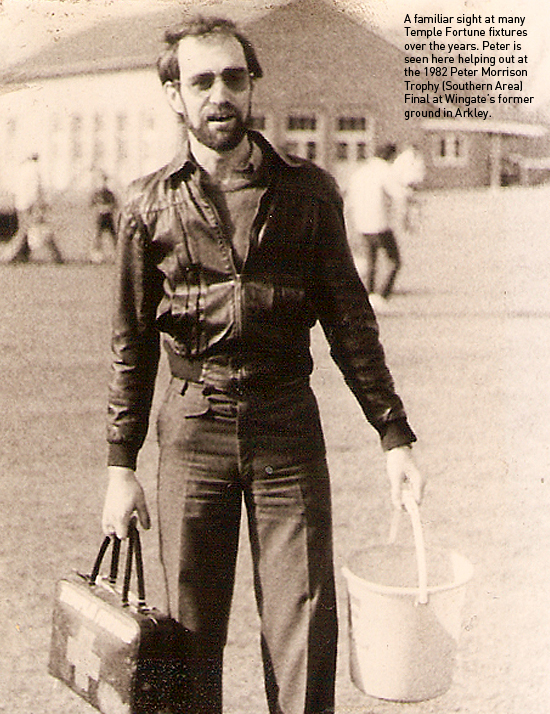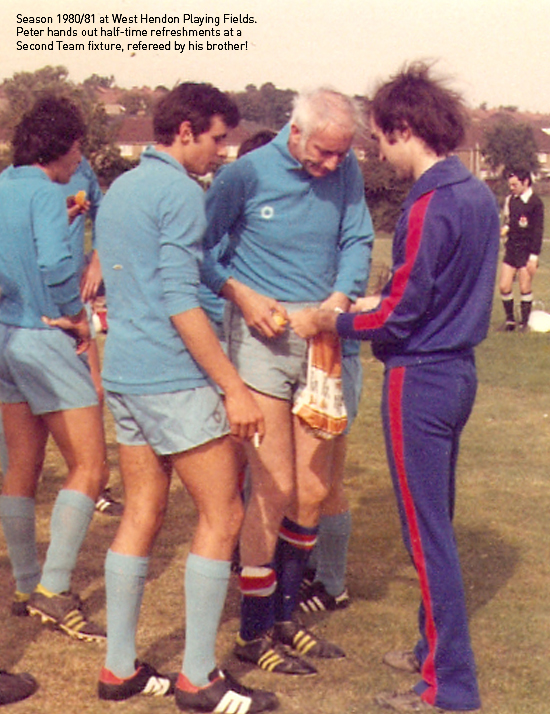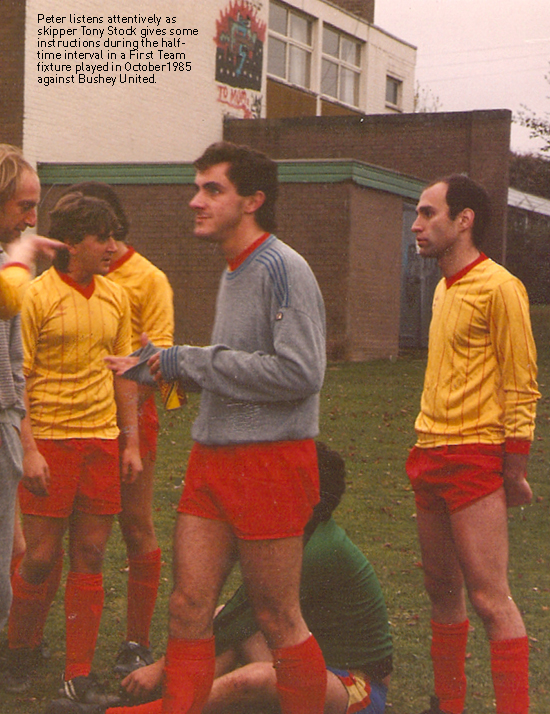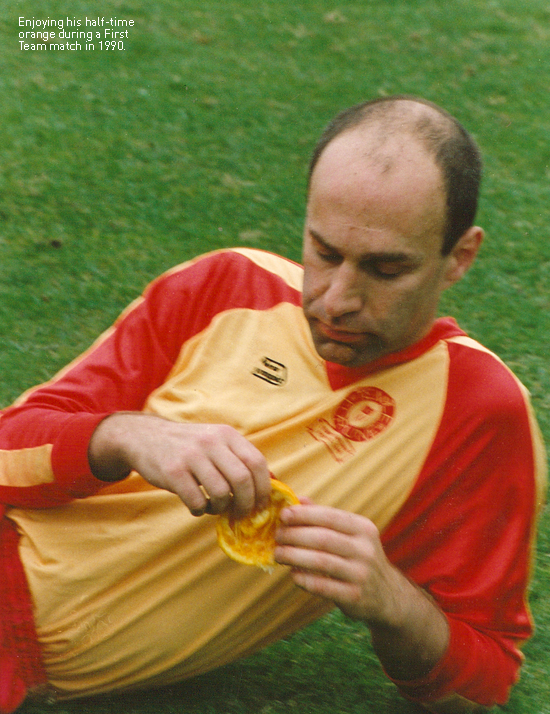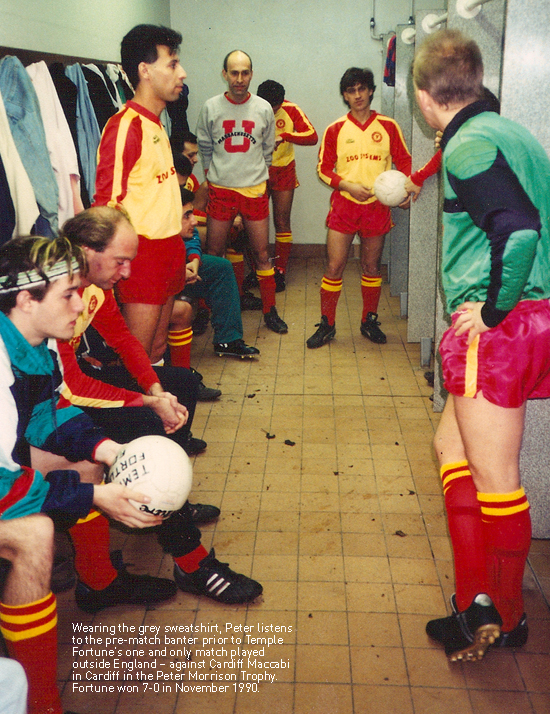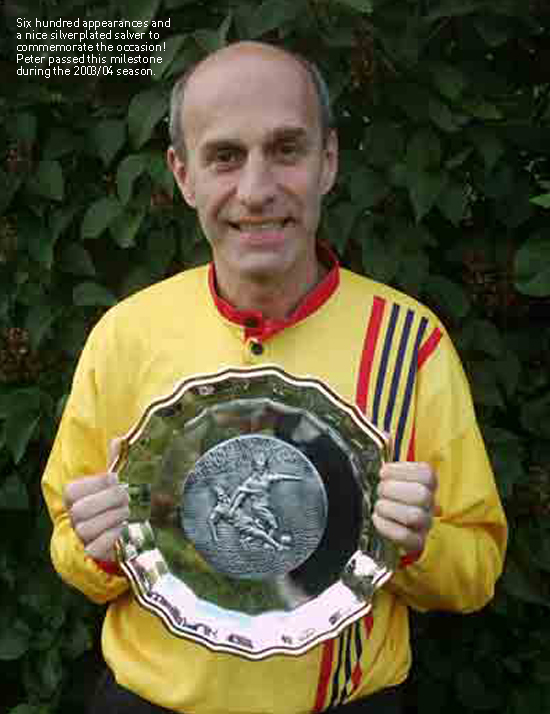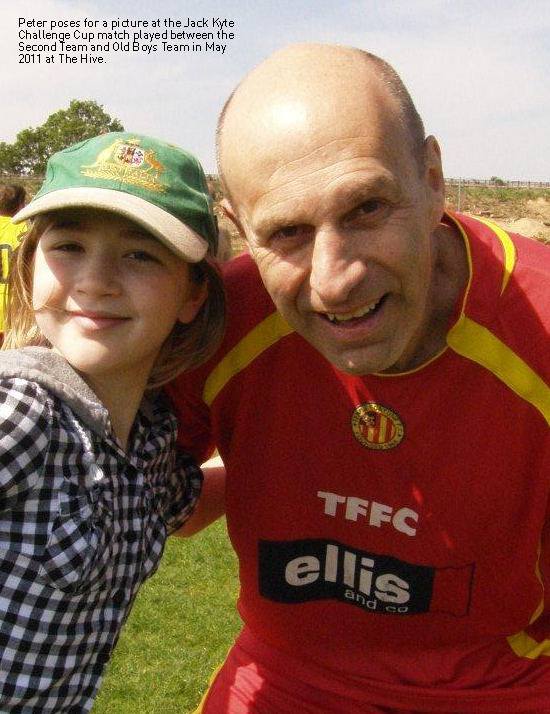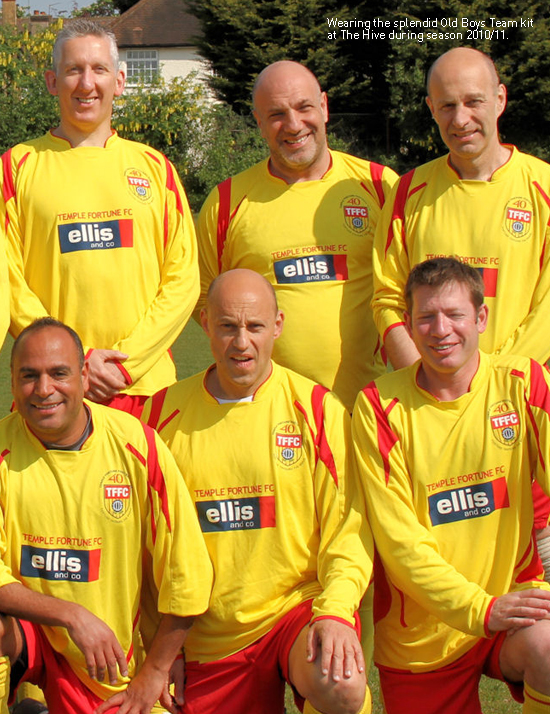 Below: The website home page dedicated to Peter's achievement for one week commencing Sunday 30th October 2011.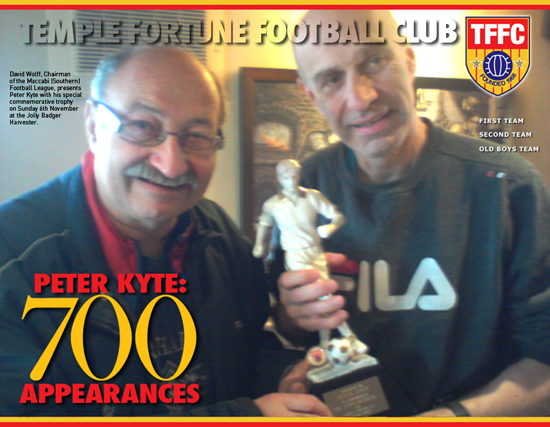 CONGRATULATIONS to Peter from all at TFFC :)