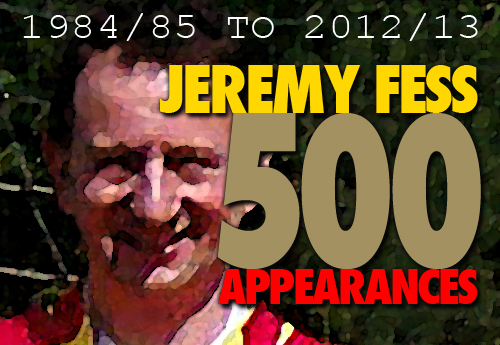 On Sunday 14th October 2012, JEREMY FESS played his 500th match for Temple Fortune FC. He is only the second player to reach this incredible milestone behind Co-Founder Peter Kyte. To mark the occasion, we have asked several long-serving players to write their personal tributes to celebrate Jeremy's achievement. Heartiest congratulations to Jeremy from everyone at TFFC.

We initially came across Jeremy Fess at Edgwarebury Park during the summer of 1984 at pre-season training. His first impression was to run into a tree which brought much amusement to everyone present! Jeremy spent his opening season playing primarily for the Second Team and ended up winning an impressive 'double' – the Player of the Year and Leaging Goalscorer's awards.

The very next season, he was elevated to the First Team and celebrated his first season with them by winning a MSFL Second Division championship medal! His speed down the right wing and ability to send over pin-point crosses certainly made many goals for strikers Steve Feiger and Steve Levy during the successful 1985/86 season. In 1987/88, Jeremy was First Team Leading Goalscorer with 17 goals when the Firsts finished runners-up in the MSFL First Division. He also received the Chairman's Merit Award too that season and followed that up with the First Team Player of the Year the very next campaign.

Jeremy played for the First Team during their three-year stint in the MSFL Premier Division and, after the team were demoted to the Third Division in subsequent years, he had a tremendous 1992/93 season by netting 23 goal for a revived First XI. A break of a few years followed thereafter but he played a few games for the Old Boys Team during their spell of playing friendlies from 1995 onwards.

When the Old Boys were founder members of the Maccabi Masters Football League in 1999, Jeremy played regularly and has been a part of the Masters set-up ever since, winning the Old Boys Team Leading Goalscorer's award on four occasions. He has also taken the Player of the Year award twice in 2002/03 and 2003/04, making his total of PotY awards with Temple Fortune an impressive six.

On the goalscoring front, Jeremy has eight awards – six Leading Goalscorer's and two commemorative century-reaching accolades. The second of these was for passing 200 goals, making him only the third player to have achieved this excellent milestone ever, behind Robert Botkai and the Club's all-time leading scorer, Steve Feiger.

Jeremy's organisational skills were put to good use as First Team Assistant Secretary for two seasons, namely 1987/88 and 1988/89 inclusive, during which time he organised the Club's one and only 'Fortune Festive Feast' dinner in December 1987.

Remaining one of the Club's most decorated players in terms of personal awards, Jeremy has always been a quiet, unassuming and amicable individual who has always shown wholehearted commitment and dedication which have been second to none. Heartiest congratulations go to Jeremy Fess whom we sincerely thank for this Club fantastic service over many seasons.


First Team

Second Team

Old Boys Team

Total

203 (9 sub) = 212

37 (2 sub) = 39

242 (7 sub) = 249

482 (18 sub) = 500

119 goals

25 goals

98 goals

242 goals

Honours and achievements: MSFL Division 2 winner (1985/86), MSFL Division 1 runner-up (1987/88), MSFL Rep XI (1985/86), 100 Club, 200 Club, 300 Club, 400 Club, 500 Club, 200 Goals Award, The Chairman's Merit Award, The Hellmuth Feiger Memorial Shield for the TFFC Achievement Award, First XI Player of the Year, Second XI Player of the Year, Old Boys XI Player of the Year (twice), First XI Leading Goalscorer, Second XI Leading Goalscorer, Old Boys XI Leading Goalscorer (four times), Serving Management Committee Officer.
Below: Jeremy Fess receives his 500th appearance commemorative trophy from MSFL Chairman David Wolff (left) and TFFC Vice-Chairman Nick Waitsman.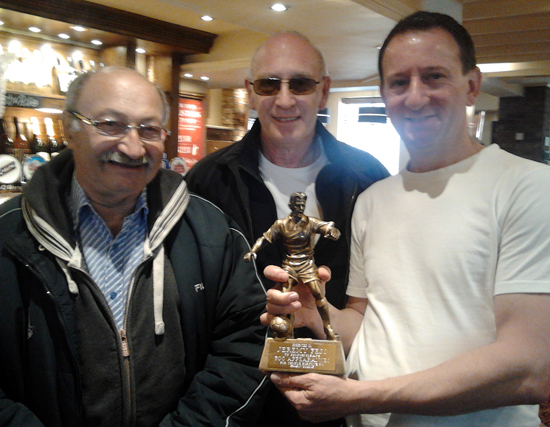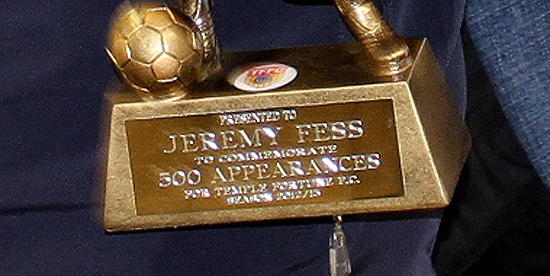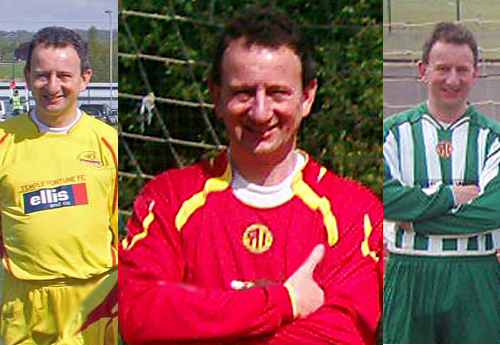 Above: Jeremy Fess wearing various Old Boys XI playing kits. Below: Pointing to the MSFL Representative badge he won for playing for the Div.2/3 team, Jeremy celebrates winning the MSFL Division 2 championship with his First XI team-mates at the League's Awards Evening in June 1986.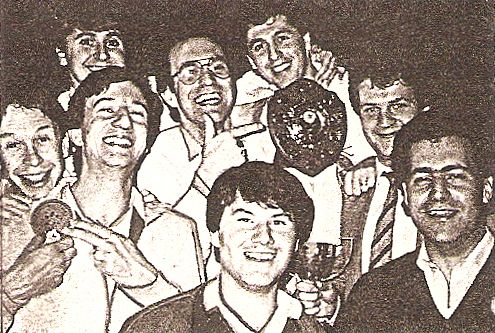 ---

"My ongoing memories of Jeremy is a crazy one – he always brings his subs in a little plastic container and always rubs in some really smelly algipan type stuff before the game! Jeremy always seems so well prepared for his games. As for playing with him, what can I say other than it has been a pleasure being with such a nice, friendly and supportive guy for so long! As well as being a good player and very successful in his 500 games he is the nicest of blokes to play besides. If I had to choose a person to come behind me in the appearance stakes, it would be Jeremy. Many mazeltovs on an amazing achievement Jeremy! When you think that I've only reached 700 because I have been playing for Temple Fortune since I was 12 (except for 2 seasons) it makes one realise what an amazing achievement reaching 500 is."
Peter Kyte

"I would just like to say a few words about Jeremy and congratulate him on his 500 appearances. I have played along side Jeremy for over 10 years now and I have to say, what a pleasure it's been and what a terrific footballer and team player he is. Extremely skilful and still pretty fast (considering his age!) and can always deliver a good cross or corner. He's also scored many great goals, which even Steve Feiger would have been proud of. I feel his best position is right midfield although he can quite easily adapt to playing up front if necessary. Jeremy is also a thoughtful player and I appreciate his input regarding team performances and tactics as well as his ideas on the formation we should play... even though I usually ignore it! Jeremy is also a great sportsman. I can't ever remember him being booked or even arguing with his team mates and that takes some doing! He is a great example of someone carrying out the Temple Fortune ethos. Once again, congratulations on 500 appearances and I hope you can still carry on playing for a few more years yet!"
David Goldberg

"I have always enjoyed playing with Jeremy, more so when we were younger. We had an understanding which was terrific for me as he used to cross the ball beautifully for me. Jeremy had pace to burn and was an integral part of 85-86. I am sure he will recall one cross in particular against Bushey in the REMT. The ball was perfect and I remember hovering mid air for what seemed an eternity before heading perfectly in to the top corner, but the pace on the ball from Jeremy was perfection. My sincerest congratulations on your achievement. Well done!"
Steve Feiger

"I would just like to say that Jeremy has always been a gentleman on and off the pitch. Congratulations on playing 500 games."
Serge Weinberger

"I have been privileged to play in the Old Boys team alongside Jeremy. With his surging runs and pin-point accurate crosses you always have a chance in any game with him in your side. I would like to pass on my congratulations to Jeremy on achieving what is an amazing feat in playing 500 games for TFFC."
James Ryan

"I've played with and against Jeremy over many years. He has a nice car!"
Gary Burns

"I was as proud as anything when I witnessed Peter receiving his 700 Apps statuette from David Wolff a year previously but somehow this achievement by Jeremy surpasses that to an extent. I say this because of all the hundreds of players to have represented the Club, Jeremy is the first person not involved in our formation to have reached five hundred games. Given that an average of 20 appearances per season would take a player 25 years to reach 500 games, I think that Jeremy's commitment to this Club has been simply incredible. He is a kind of Gary Lineker to me – a very sporting player who, to my knowledge, has never been booked and who certainly has an eye for goal. It was so fitting for him to score on his 500th appearance! 240 or so goals in 500 games is a record any out-and-out striker would be proud of, let alone a winger/midfielder. Many congratulations, Jeremy – I do not use the term often but in my book you are very much a TFFC legend!"
Nigel Kyte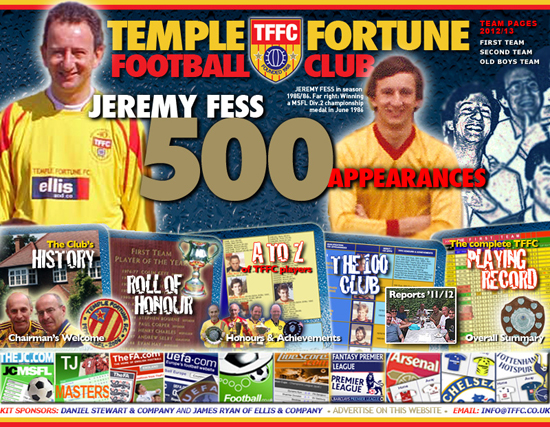 Above: The website home page dedicated to Jeremy's achievement for one week commencing Sunday 14th October 2012. Below: More pictures of Jeremy adorning various TFFC kits over the seasons.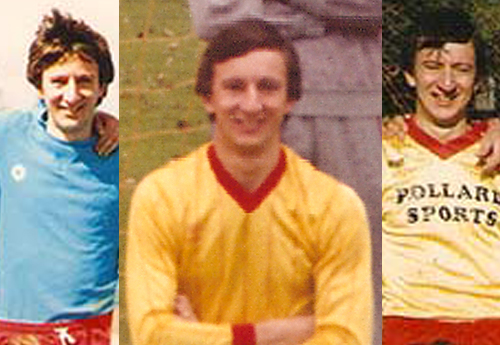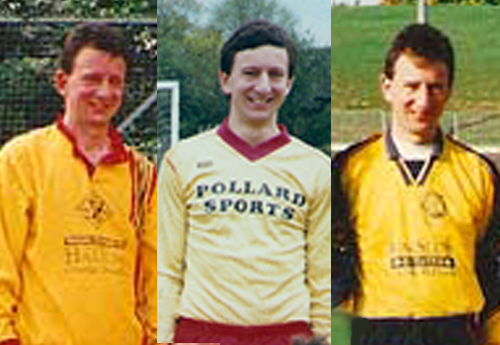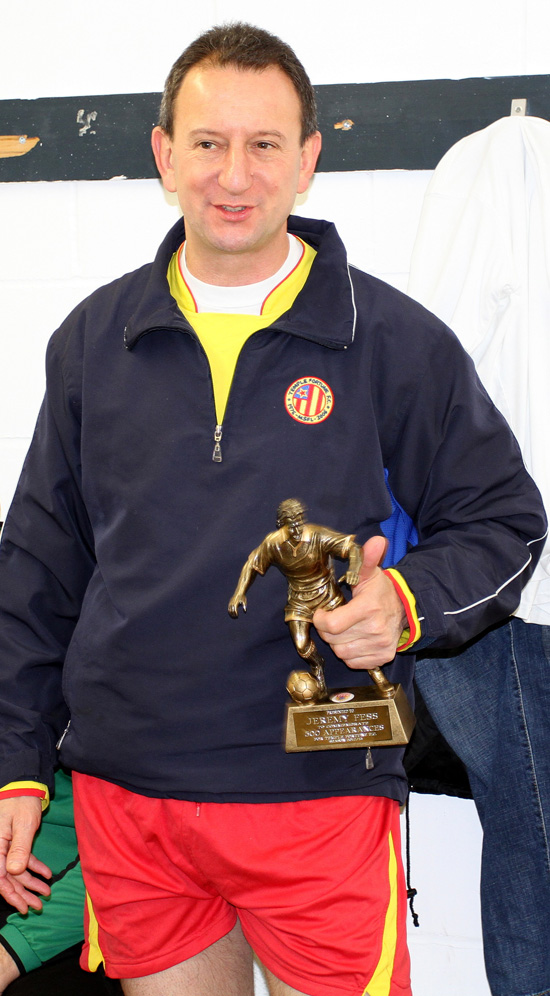 CONGRATULATIONS to Jeremy from all at TFFC :)