One hundred individuals representing the League Management Committee, numerous clubs and panel referees past and present visited the Redbridge Jewish Community Centre on Monday 31st March 2014 for a celebratory dinner in honour of Chairman David Wolff who has given 50 years of dedication to the Maccabi (Southern) Football League (now the MGBSFL).
Dignitaries from the London FA, Maccabi GB, Maccabi Masters League, Wingate & Finchley FC and the Jewish press also joined the occasion as David received several awards to commemorate his exceptional achievement. These included a medal from the London FA, a big crystal bowl from Wingate & Finchley FC, a book about West Ham's history as covered by the media from the MMFL and a tall crystal award from the MGBSFL Management Committee. General Secretary Bev Newman also received an award to mark 25 years on the Management Committee.
Only a handful of long-running clubs were invited to attend, including Brixton Old Boys, Catford & Bromley Maccabi, Faithfold, Hendon United, London Maccabi Lions, North London Raiders and Temple Fortune, who were represented by Chairman Nigel Kyte and the Club's all-time leading goalscorer Steve Feiger. Temple Fortune's David Goldberg (Masters League Referees' Secretary) and Mike Shorvon (MGBSFL Third Division Rep) were also present.

Nigel left a tribute on thejc.com website which can be read below the collection of photos to follow. The First Team's manager Jonathan Cohen also left a fitting tribute: ""Congratulations David! Fifty years service is an incredible achievement and your passion and enthusiasm for the job today is certainly there for everyone to see. You should be proud knowing that you provide a platform for hundreds of people to play football every week. The face of Jewish football!"

Talking about the dinner, Nigel said: "It was great seeing people I had not seen for many years, such as Andrew Hart, Adrian Lewis, Howard Moss and Harvey Seitz, all former League Management Committee officers. The speeches were warm and sincere, best summed up by Lord Jonathan Kestenbaum calling David "unique". I enjoyed the evening and I'm certain that David did too. His accolades were fully merited and I doubt that this League will ever see his like again. Fifty years of committed service to the Maccabi football – simply outstanding."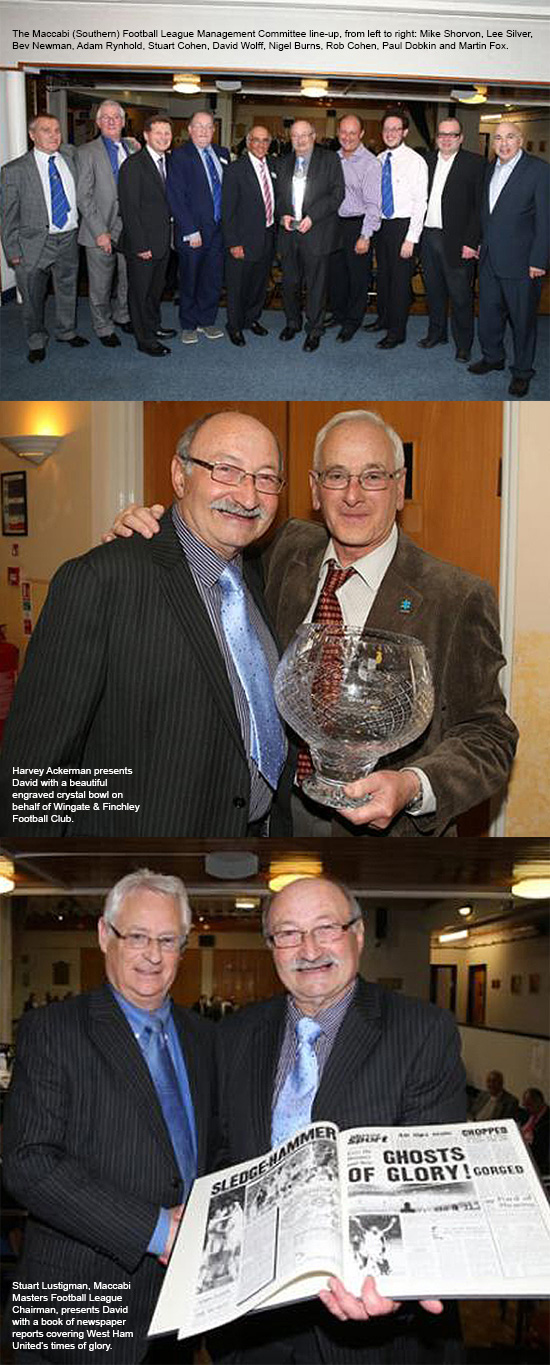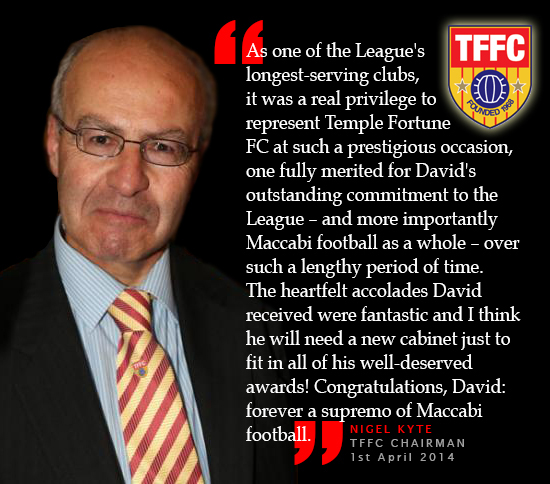 Acknowledgements to Marc Morris and the Jewish Chronicle for the images